Belle Boone Green Hopkins
1886-1977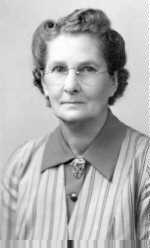 Belle G. Hopkins
Belle Boone was born on August 23, 1886 in Delaware County, Indiana, the daughter of James Thomas Boone and Margaret Jane Mock. She was the second child of the family, and the first daughter. When Belle was 10 her mother died, and she was adopted by the Reverend Joel Green, their minister at the Congerville Baptist Church in Muncie, and his wife Marilla.
A cousin sent me this picture of Belle with her sister Hazel and brother Walter. This is the earliest picture of her that I have. She looks to be about 15 or 16 in this picture. I don't know the date of the picture, or the location, but I'm very happy to have this new view of my grandmother.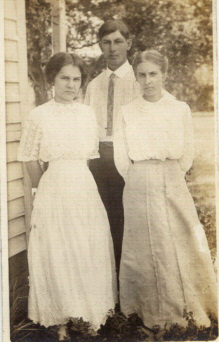 Helen, Walter, and Belle Boone
Belle was raised by the Greens until her marriage to Arthur Howard Hopkins on January 21, 1905. She was married by her adopted father in his church in Wells County, Indiana. Belle and Howard had a daughter, Helen, while still in Indiana. They then moved to Nebraska, where Arthur hoped to buy a farm after working as a farm hand for a while. While living on the farm Arthur worked on, Belle began to have kidney trouble, something that plagued her for years, and the family moved to Kearney so she could have better medical care.
After a few years in Kearney, the family moved to Kansas so Arthur could work in the oil fields in El Dorado. Most of the Hopkins family was already working and living there. After that the family moved to Lee County, Kentucky to work in the oil fields there.
Eastern Kentucky didn't offer many opportunities for educating children then, so Arthur and Belle decided to send the children to a boarding school in Lexington the first year they were in Kentucky. After that year, they looked for other options, and found that the Berea Academy offered a quality education. The oil field work was winding down, so the family needed to move on anyway. They moved to Berea and enrolled the children in the Academy. But Arthur couldn't find work that would support the family in Berea, so he decided to move to Wyoming to work in the new oil fields there, leaving his family behind in Berea. Both Arthur and Belle were determined that their children should receive a good education.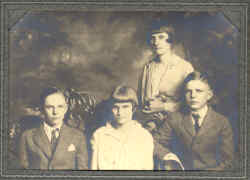 Don, Ruth, Belle & Ralph Hopkins
Belle was appointed the Postmistress of the Berea College Post Office, a position she held for many years. She raised the children and saw that they went to the college and graduated. Only Don chose not to go to college. Belle continued to live in Berea until her retirement in 1942, when she went to live with her son Ralph in Owensboro, Kentucky. When Ralph quit working for Seagrams and found a job with the Bureau of Mines in Bartlesville, Oklahoma, Belle went with him. She lived in Bartlesville and Dewey, Oklahoma the rest of her life.
My father and I used to go over to see Grandma and Uncle Ralph on Saturdays. It was almost a ritual for us. Grandma would always be baking the bread for the week and making a big pot of vegetable soup, so we'd have a lunch of fresh bread and butter, and soup. I can still taste it! Uncle Ralph would be working in his garden, or sitting in his rocking chair, rocking, reading a chemical society journal, and listening to the Texaco broadcast of the Metropolitan Opera on the radio. Dad would kid Ralph about something and get a grunt in return, and would kid his mother by licking his soup bowl when he finished and get a reproof from her. It never varied. It was the kind of ritual that's so good for a young boy growing up.
Belle was active in the Baptist Church all her life. Her encouragement finally got Ralph involved later in his life. She knew her Bible, and could discuss religion intelligently. She attended church regularly and was active in the Women's Circle until her health no longer permitted it.
Belle died on September 6, 1977 at the age of 91. She was buried in the Dewey, Oklahoma city cemetery, where her son Ralph was buried, and where her daughter Ruth's ashes are also buried.
---
Return to Arthur and Belle Hopkins family.
This file was last updated on 4/16/2012.