Grave Inscriptions
These are inscriptions I copied and photographed during a trip to Indiana in 1994. The first set were from the old burying ground used by the Quakers in Camden (later changed to Pennville). It lies just east of town, overlooking the Salamonie River. Most of the grave markers are of the traditional Quaker style, very small and simply inscribed. Plain in life, they wanted to be plain in death as well. For an example, here is the stone for John Griest.
Grave Marker Inscriptions
Old Quaker (Hillside) Cemetery
Pennville, Jay County, Indiana
Recorded September 23, 1994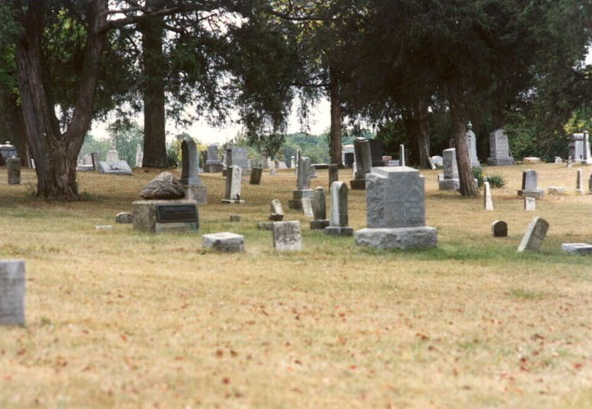 JAMES D.
SON OF
B. B. & M. A.
HOPKINS
DIED Jan. 19, 1881
AGED 1 Y. 5 M. 19 D.
Now he is with Jesus

LYDIA E.
DAU. OF
P. & R. E.
Confer
DIED
SEPT. 29, 1877
AGED
11 Mo. & 29 Ds.

ANNIE
Dau. of
H. C. & H. M.
GRIFFITH
DIED
June 26, 1870
AGED
2Y. 1M. 27D.
SAMUEL GRISELL
DIED
8th Mo. 8th Day
1864
Aged 73Ys
11Mo & 16D

ANN
Wife of
SAMUEL GRISELL
DIED 10 mo. 12 d. 1869
AGED
76 ys 2 mo. 16 ds.

GRISELL
Amos
1817-1866
Elizabeth M.
1819-1891
Rachel A. their daughter
1842-1915
Erected by Margaret D. Allen
Lewis Grisell
Born May 27, 1835
Died Jan 30, 1904

EDMUNDSON
THOMAS 1774-1849
ELIZABETH MORSELL
1780-1859
Came from Maryland to Indiana 1837
view monument
WILLIAM EDMUNDSON
BORN
11th M. 21st D. 1812
DIED
3rd M. 1st D. 1894
AGED
81Y. 3M. 10D.
JOHN EDMUNDSON
DIED
AUG. 20, 1900
AGED
75Y. 4M. 3D.

RACHEL A.
WIFE OF J. EDMUNDSON
DIED
AUG 20, 1910
AGED
79Y. 1M. 7D.
view monument
ALBERT
SON OF
JOHN &
RACHEL ANN
EDMUNDSON
BORN
10 M. 20 D. 1851
Departed This Life
7th M. 28 D. 1874
AGED
22Y. 7M 8D.
CYRUS
Son of
JOHN & RACHEL ANN
EDMUNDSON
BORN 2M. 21D. 1859
Departed This Life
8M. 21D. 1862
AGED 3Y. & 6M.

THOMAS EDMUNDSON
DIED
2M 2D 1879

IN MEMORY OFf
SALATHIEL J. GRIEST
DEPARTED THIS LIFE
1ST Mo. 15th Da. 1888.
JOHN GRIEST
DIED 12M 26D 1874

HANNAH
Wife of J. Griest
Died 9m 16d 1873
Aged 66y 4m 14d

LEANDER
son of J. & H. Griest
Died 3mo 28d 1872
Aged 22y 2m 14d
EMILY
Dau of
J. & H. Griest
Died 12 Month 14 - 1862
Aged 20Y. 3M. 9D.
Most of these inscriptions, and many more, can be found at the Find A Grave Web page for this cemetery.
---
Grave Marker Inscriptions
Fountain Park Cemetery
Winchester, Randolph County, Indiana
Recorded September 25-26, 1994
This set of inscriptions is from Randolph County, just south of Jay County. Rebecca Griest Hopkins was the wife of Benjamin Cavender Hopkins, who died in Winchester on Feb 1, 1892. I was unable to find his grave marker. It may well be that he had none.
Theodore G. Hopkins
December 30, 1861
June 4, 1904
(buried with Elmira Fraze)

Elmira Hopkins Fraze
1864-1955
The following entries are from the Fountain Park Cemetery records, Winchester, Indiana.
Rebecca G. Hopkins
67y 10m 14d
Born Pennsylvania
Died Winchester
November 28, 1903
John Griest - Maryland
---- Edmunds, Pennsylvania
Sec 8 N 1/2 Lot 83

Theodore G. Hopkins
Age 42
Railroad Agent
Born Indiana
Died Winchester June 4, 1904
Buried with Elmira Fraze
Sec 8 S 1/2 Lot 72

The Find A Grave Web site for this cemetery shows three of these inscriptions.
---
See also Contents: Quaker Records for more Quaker references.
This file was last updated on 2/20/2012.