Ralph Lester Hopkins
1912-1972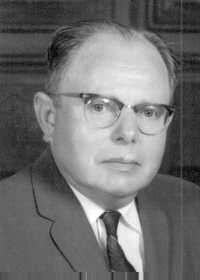 Ralph L. Hopkins
Ralph, the youngest child of Arthur and Belle Hopkins, was born on September 17, 1912 in Kearney, Buffalo County, Nebraska. He attended Berea Academy in Berea, Kentucky and graduated with a B.A. in Chemistry from Berea College in 1935. He then studied at the University of Kentucky and received a Masters Degree in Chemical Engineering in 1938. He worked briefly for the Seagram company in Owensboro, Kentucky during WW II, then had a long career as a research chemist with the U.S. Bureau of Mines in Bartlesville, Oklahoma. He was the author of many scientific papers during his career there. His specialty was sulfur compounds in petroleum.
He was also a talented amateur astronomer (making his own telescopes and grinding his own lenses), an avid gardener, a student of the Civil War, a devoted listener to the Metropolitan Opera broadcasts and to his own collection of classical music, and in his later years he became active in the Baptist church. He died as a result of a laboratory fire at the Bureau of Mines on October 31, 1972.
He had an amazing memory. My father tells stories about how Ralph memorized his text books in college, and could mentally flip to any page and begin reading from memory.* Needless to say, he was an excellent student. He became very interested in Civil War history later in life, and collected a sizable number of books on the subject. He used his vacations to tour Civil War battlefields, and could tell you the history of each battle in great detail.
Ralph never married. He was a very shy man, soft and slow of speech, who found it hard to talk with people he didn't know. But he could talk a blue streak with those he knew and trusted! He was liked and admired by those he worked with, and by his family and friends.
Ralph lived with his mother during his years in Oklahoma. When my father and I would visit them when I was a boy, he showed an interest in my education and my musical training. I'm afraid I didn't share his enthusiasm for classical music and opera then, but am sure it rubbed off on me enough to influence my tastes later. Looking at planets and stars through his telescopes, and hearing the wealth of knowledge he had accumulated about astronomy, also stimulated my interest in science, and helped guide me into scientific pursuits in my own life.
He and my Grandmother lived in Bartlesville in an area rich in limestone. In fact, you couldn't dig a hole without hitting limestone. To make the ground ready for planting a garden, Ralph had to dig out huge plates of limestone. Large piles of it had to be hauled away or broken up into small rocks for edging, etc. He was undeterred by these difficulties, and managed to plant a large garden every year, much of the produce of which he gave to family, friends, and co-workers.
During his final years, Ralph became very involved in the Baptist Church, donating substantially to the church, singing in the choir, and visiting members and potential members, in addition to regularly attending services.
Ralph Hopkins died at Hillcrest Hospital in Tulsa, Oklahoma, on October 31, 1972, and was buried at Dewey Cemetery in Dewey, Washington County, Oklahoma on November 3, 1972.
---
* After reading Temple Grandin's book Thinking in Pictures, I think that Ralph had visual memory as she describes it. He exhibited other traits of Asperger's Syndrome, but was never diagnosed.
Return to the Arthur and Belle Hopkins family page.
This file was last updated on 4/16/2012.