Ruth Emma Hopkins
1909-1990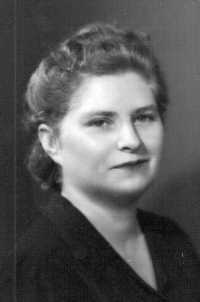 Ruth Hopkins
Ruth Hopkins was born on July 31, 1909 in Buffalo County, Nebraska, the daughter of Arthur and Belle Hopkins. She attended the Berea Academy in Berea, Kentucky and received her B.A. degree from Berea College in 1930. She was the Co-Valedictorian of her graduating class. She taught school for one year, then worked as a companion to an elderly woman for a time. She was also employed at Mercy Hospital in Hamilton, Ohio for a number of years.
For much of her life she cared for her parents. Her father lived with her for a number of years, both in Indiana and Ohio. After his death she moved to Oklahoma to be near her mother, and cared for her until her death. She returned then to Ohio, and lived the final years of her life there.
Ruth was very fond of classical music, and bought records and good phonographs as much as her limited means would allow. She also liked to travel, and managed to make several trips, including one to the Passion Play in Oberamergau.
She was an avid reader, and owned a good collection of books on history, prose literature, and poetry. She was also an expert quilter, and made a number of beautiful quilts for her family and friends. She was a religious woman, and became interested in the Quakers later in her life, returning to the religious preference of her ancestors. She attended meetings after she returned from Oklahoma to Ohio.
Ruth Hopkins died on April 23, 1990; her ashes were buried in Dewey, Oklahoma Cemetery, where her mother and brother Ralph were buried.
---
Return
to the Arthur and Belle Hopkins family page.
This file was last updated on 12/22/2007.