Charles Logan Hopkins
Hopkins Family Historian
1884 - 1971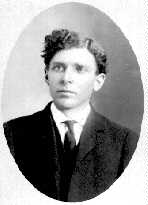 Charles Logan Hopkins'
High School Photo
My Great-Uncle Charley was born on September 13, 1884 in Jay County, Indiana, the youngest child of Barclay Brown and Mary Ann (Dailey) Hopkins. He went to grade school in Jay and Wells Counties, and to Pennville High School. Charley seems to have moved to Kearney, Buffalo County, Nebraska between his junior and senior years in high school, or about the summer of 1906. His older brother Arthur and Belle Boone Green had married in 1905 and moved there the following year, and he and his parents apparently joined them.
After high school, Charley was with his brother Will in Nowata, Nowata County, Oklahoma for a while in 1909. He worked at an irrigation project in Laurel, Yellowstone County, Montana in 1911, and was in Worland, Washakie County, Wyoming in 1911 and 1912. In 1913 he went to work in the oil fields in Oklahoma, living in Coody's Bluff, near Nowata. His brother Will and his sister Emma had lived there since 1909, and his parents had visited there in 1911. From there, Charley moved to the Eldorado oil field in Eldorado, Butler County, Kansas. He was joined there by his mother (his father having died in 1914), his sister Emma, his sister Alice and her family, and his brothers Will and Arthur and their families.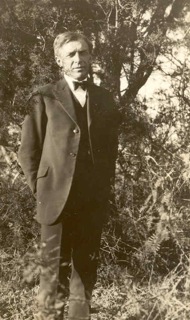 Charles Logan Hopkins
When work in the Eldorado field began to slow, following WW I, Charley moved to the new fields being developed by the Carter company in eastern Kentucky, near Torrant and Zoe in Lee County. He remained there as a foreman for some time, but moved on to Parkerton, Converse County, Wyoming in 1922 to work in the Big Muddy oil field. His older brother Arthur joined him there, as well as his mother and sister Emma. His nephew Howard also worked there a year between high school and college.
Charley left Wyoming in 1926 and returned to Eldorado, Kansas, where he lived with his sister Emma and his mother. He tried operating a radio repair shop there for a time. He also looked into other opportunities, including work in the oil fields in Texas and overseas. After his mother died (October 26, 1927) he moved to Texas, and his sister Emma married Orvill Gossitt (August 25, 1928) and moved to Wichita. He worked first in Panhandle, Carson County, Texas and then in Rankin, Upton County. Charley then moved from Rankin to Iraan, Pecos County, Texas, and lived and worked in the oil fields around there from 1928 until 1953.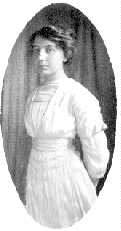 Ethel E. Ulrey
On September 19, 1934 Charley married Ethel Ulrey in Memphis, Shelby County, Tennessee. He and Ethel lived in Iraan from that time until they moved to Arkansas. They had a happy marriage, sharing many of the same beliefs and ideals. They were both advocates of organic foods and natural living. They may have met at the health resort in Battle Creek, Michigan that Charley attended in 1921. They were both involved in their church, and in their families. The many photos that they took of church and family members attest to this.
Charley had always been interested in photography. He left behind hundreds of photos and negatives that are a treasury of family and contemporary history. He also saved letters, cards, graduation programs, and other items that provide rich material for research into his life and the times he lived in. He was also responsible for preparing a family history, collecting and preserving the family Bible records of births, marriages, and deaths that provide the basis for my present genealogical work. Without his efforts in collecting and preserving the records, I believe most of the information about our families would have been lost.
After working for years in the oil fields, Charley suffered a heat stroke in 1953, and had to retire from that kind of work. He and Ethel decided to move to a small farm in Arkansas, south of Berryville, in Carroll County. They lived there and at another place just east of Eureka Springs the rest of their lives.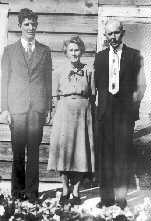 Howard, Belle & Charles
Hopkins in Arkansas
My father, grandmother, and I used to visit Charley and Ethel now and then. We would make the long drive from Pawhuska and Bartlesville, Oklahoma to Eureka Springs, spend a night or two at their place, then drive home again. They kept goats for their milk, not wanting to drink commercial cow's milk. I remember as a young boy being fascinated by the goats' antics. Charley and Ethel grew as much of their own food as possible, to avoid eating the additives that were in prepared foods. We thought them strange for that then, but time has proven them right about the harmfulness of food additives.
Ethel Ulrey Hopkins died on November 17, 1969. Charley continued to live near Eureka Springs for another two years. Then Belle Hopkins persuaded him to come to live with her and her daughter Ruth in Dewey, Washington County, Oklahoma. He was on his way there when he died in Vinita, Craig County, Oklahoma on November 13, 1971 as a result of an automobile accident a few miles west of town. He was buried in Berryville Cemetery, plot 22-9-8, on November 15, 1971. It's ironic that Charley died just a few miles from Coody's Bluff, where he had lived and worked as a young man.
I feel very fortunate that so much of what Charley collected about our families has come down to me. I owe him much for this legacy. I've taken on the role of family historian that he upheld for so many years. I hope I can pass on to my family as much as Charley passed on to us.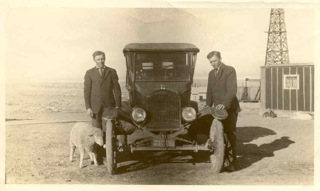 Charley in Wyoming. He liked taking double exposures.
I've prepared a family group sheet for Charley and Ethel, and another one for Ethel's parents and children, both in pdf format.
---
Back to Barclay Hopkins Family
This file was last updated on 4/24/2012.