The Family of Barclay and Mary Ann Hopkins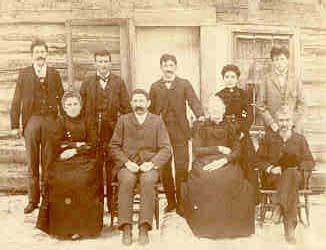 The Hopkins family, Christmas 1900.
Will, Arthur, Luther, Emma, Charley
Alice, Ed, Mary Ann & Barclay
Barclay Brown Hopkins married Mary Ann Dailey, daughter of Joseph Miller Dailey and Susan M. Gillis on November 17, 1861. They lived most of their married lives in Jay and Wells counties, Indiana. According to my grandfather, Arthur Hopkins, they never owned a farm, but rented land from someone else in Wells County, where this log house was located. The house was made of walnut logs! They lived near Mary Ann's numerous Dailey family members, and also near her half-sister, Ruth Ellen (Smith) Confer, wife of Peter Confer.
Barclay had been raised a Quaker. When he married Mary Ann, who was not a member of the Society of Friends, the Camden (Pennville) meeting naturally was unhappy about it, since he was supposed to marry another Quaker and follow the established order. Barclay left the Quakers and joined the Baptist church, which his wife was already a member of (see below).
When they were older, and their children were grown and married, Barclay and Mary Ann gave up their home and lived alternately with their children. They were with Arthur and Belle for a time in Nebraska, but also spent time with their other children. I have numerous letters from and to them that were in their son Charley's collection of family treasures.
After Barclay died (of bronchitis), Mary Ann lived with Charley and Emma most of the time. Charley, being the youngest son, was responsible for looking after his parents and his unmarried sister. Mary Ann lived in Eldorado, Kansas; Lee County, Kentucky; and in Parkerton, Wyoming with her children. She was in Eldorado, Kansas at the time of her death. Her body was returned to Indiana for burial in the Montpelier, Indiana cemetery next to her husband.
Obituaries
In Memory of Barclay B. Hopkins
(Nowata, Oklahoma Daily Star)
He was born in Warren county, Ohio, on April 10, 1839, and was converted and united with the Baptist church at Richmond, Ohio, in July, 1866. Died near Roll, Ind., Wednesday, January 28, 1914, at the age of 74 years, 9 months and 18 days.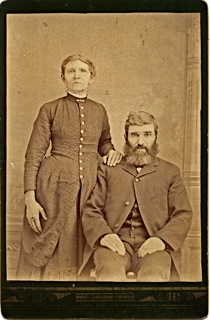 Mary Ann and Barclay
The subject of this sketch was the son of William and Nancy Hopkins, and the father of Miss Emma, of Nowata, and J. W. and Charlie, of Coodys' bluff, and Bly, Okla. He was united in marriage to Miss Mary A. Dailey, of Pennville, Ind., Nov. 17, 1861, they having journeyed happily together for over 52 years. Of this union were born seven children, one son having died in infancy. Perhaps the many friends and readers will recall to mind that Grandpa and Grandma arrived in Nowata, Oct. 1, 1911, to spend the winter with their son William and family at Coody's Bluff, and while there, Nov. 17, 1911, they celebrated their golden wedding and quite a number of friends were their guests of honor at their wedding feast. Grandpa and Grandma made many friends by their cheerful and sunny dispositions during their brief visit here. They had come again this winter from their home in Kearney, Neb., to visit their children in the east and it was during their visit to their son Luther's home that Grandpa was taken seriously sick. The death angel hovered near, beckoning him to come home. So just before the close of day on Wednesday afternoon at ten minutes until 6:00 o'clock, January 28, he obeyed his Master's summons, and it is a blessed assurance to know that Grandpa is now safely at home where sickness and sorrow cannot enter. He leaves to mourn his loss his aged companion, four sons and two daughters, 17 grandchildren and four great grandchildren, besides a large concourse of relatives and friends.
Funeral services were conducted by Rev. Baylis, at the Baptist church in Montpelier, Ind., Sunday at 10:30 a. m., Feb. 1, 1914. After which the body was laid to rest in the beautiful Woodlawn cemetery at Montpelier to await the resurrection morn. May God in His infinite wisdom, comfort and console the deeply bereaved ones.
A Friend.
Mary Ann Dailey Hopkins
Mary Ann Dailey, daughter of Joseph M. and Susan Gillis-Dailey, born April 21, [written in] 1841, Franklin County, Indiana, died in Eldorado, Kansas, October 26, 1927, aged 86 years, 6 months and 5 days. At the age of 16 years, she was converted and joined the Baptist Church, of which she has been a consistent member since. November 17, 1861 she was united in marriage with Barclay Brown Hopkins, with whom she lived as a faithful, loving wife until the latter's death, January 28, 1914. To this marriage were born six sons and two daughters. One son, James Dailey, died in infancy. those surviving are: E. A. and J. W. Hopkins, of Whiting, Ind.; A. H. Hopkins, of Parkerton, Wyoming; S. L. Hopkins, of Lawrenceville, Ill.; Mrs. Alice Stephens, Miss Emma and Charles L. Hopkins, of Eldorado, Kansas. there are also 21 grandchildren and 21 great-grandchildren surviving, besides a number of other relatives and friends. Funeral services were held at the home of Mr. and Mrs. Frank Wright, east of Montpelier, Ind., on Sunday afternoon at 2:00 o'clock. Burial was made in the Woodlawn cemetery here.
Card of Thanks.
We wish in this manner to express our sincere appreciation to our friends for their many kindnesses shown us at the death of our dear mother, Mrs. Mary Hopkins. We also want to thank the singers, those who sent floral offerings, the minister for his comforting words, and all who assisted us in any way.
The Children.
Descendants of Barclay and Mary Ann Hopkins
I've prepared a register report showing their children, and providing more details about the family. Here are links to individual pages for the children:
---
The birth records of this family, from the family Bible, are available in both text and image forms.
Return to Contents.
This file was last updated on 12/22/2007.