Charles Howard Hopkins
1907-1999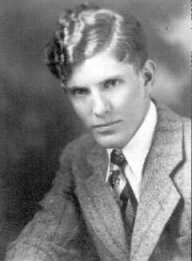 Charles Howard Hopkins´
Graduation Picture
Charles Howard Hopkins was born on September 17, 1907 in Buffalo County, Nebraska, the son of Arthur Howard Hopkins and Belle Boone Green. He had two sisters, Helen and Ruth, and two brothers, Donald and Ralph.
Howard received his high school education at the Berea Academy in Berea, Kentucky, and graduated from Berea College in 1930 with a B.A. in Chemistry. Although he graduated at the beginning of the Great Depression, he found a job with the Champion Paper Company * in Hamilton, Ohio and worked there until the beginning of the buildup to WW II. It was in Hamilton that he met and married his first wife, Thelma Cecilia Wolf, and where his only child, Arthur David Hopkins, was born.
In 1940 Howard found another job in Louisville, Kentucky working for the State Highway Commission. After a year or so, he found another job at Citizen Gas & Coke Utility with a college friend in Indianapolis, Indiana. From there, he went to Lockport and Lemont, Illinois, where he worked at the Globe Oil Company refinery lab until the end of the war.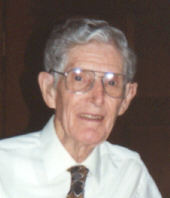 Howard Hopkins in April 1999
At the end of the war, Howard lost his job at Globe, and found a job at the research laboratory of Skelly Oil Company in Pawhuska, Oklahoma. During his years at Skelly, he developed many new products and processes for the company, the most notable of which was their Keotane gasoline additive. He held seven patents with the company for his inventions. He was also respected and admired by the men and women who worked for him as a fair and respectful supervisor. He rose to the position of Chief Chemist before the company closed the laboratory in a reorganization. He managed to find a job at the Bareco Company despite his age (57), and later worked for the Petrolite Company before taking mandatory retirement at age 65. He would have preferred to work many years longer.
It was in Lemont that he and his first wife separated and divorced. He had custody of his son, and raised him alone until he went to college. Howard was a good father, and somehow also managed to further his career, be active in the Presbyterian Church, sing in a men's choral group, and pursue his interest in gardening while raising his son. He believed in using reason in child rearing, patiently explaining the reasons for doing something to a sometimes-unreasonable son.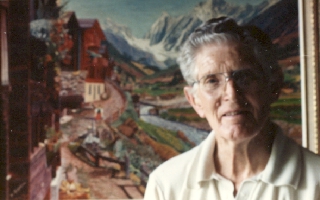 Howard with one of his pictures
After his son went off to college, Howard married a second time to Lucille Williams, whom he had met at Skelly. She had two daughters, Carolyn and Dorotha, whom Howard treated like his own.
In his retirement, which lasted for 27 years, Howard was able to pursue his three main hobbies: gardening, painting, and reading. He enjoyed working in his garden, and liked experimenting with plants that weren't usually grown in the Oklahoma climate. He was famous among his friends and family for his gooseberries, which he made into pies and jam for himself and others to enjoy. He read widely, but preferred history and historical fiction.
In his painting, he specialized in Western scenes, like the one below, and in pictures of cactus blooms. He exhibited his art in numerous local shows and competitions, and in Taos, New Mexico. He developed a distinctive style, and rediscovered some of the techniques of the old masters. His black backgrounds, for example, were composed of a mixture of black and other colors, so that they appeared really black, as in the paintings of Rembrandt.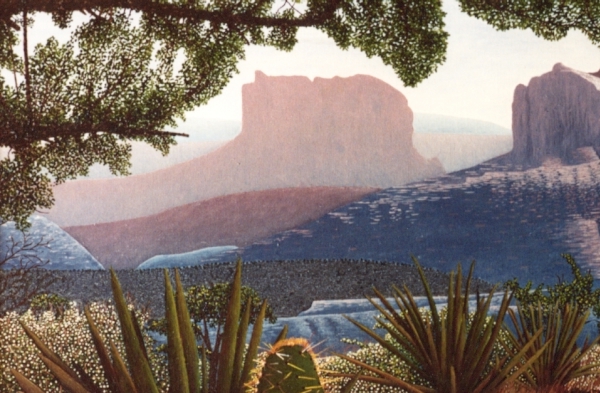 One of Howard's western landscapes
Howard developed colon cancer and died at his home in Bixby, Oklahoma on September 27, 1999 at the age of 92 years and 10 days. Howard was the last surviving member of his parents' family. He was mourned by his wife Lucille, by his son Arthur and his family, his step-daughter Dorotha, and by numerous grandchildren. His funeral was held on September 30 at the South Tulsa Baptist Church, followed by burial at the Pawhuska, Oklahoma city cemetery.
---
View some of Howard's other paintings.
See the page about his parents.
* See also this page about the paper making industry in Hamilton, Ohio.
This file was last updated on 5/16/2021.