Donald Ernest Hopkins
1911-1994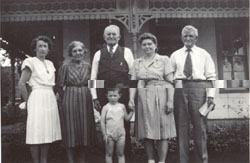 Jeaneice, Emma, Will, Bob, Ruth & Arthur Hopkins
Donald Hopkins was born on February 16, 1911 in Kearney, Buffalo County, Nebraska, the son of Arthur and Belle Hopkins. In his early years he lived in Eldorado, Kansas and Lee County, Kentucky, where his father and uncles worked in the oil fields. He attended the Berea Academy in Berea, Kentucky with his brothers and sisters. When he was a young man, Donnie worked with his father in Wyoming oil fields for several years before going to live and work in Hamilton, Ohio. He married Norma Jeaneice Beckett, daughter of Ernest and Norma (Gerber) Beckett, on December 29, 1934, and had one son, Robert Gene, born on January 19, 1943. He was a tinner and master metal worker at Champion Paper Company for many years.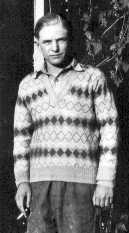 Donald Hopkins in Wyoming
During World War II, he served in the Third Infantry Division, Seventh Army, seeing action in North Africa and the invasion of Italy at Salerno. While in Italy he became the unofficial barber of his outfit. He said it helped keep up morale to have someone to cut the men's hair. He made a joke of it, moving their heads by pulling on their ears or noses. The men loved it!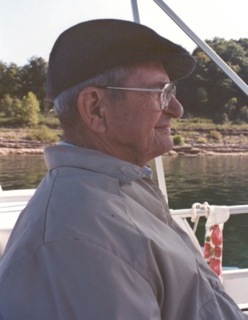 Donald Hopkins in 1993
He was well-known to his family and friends as a talented bargainer and trader, and an enthusiastic gardener. My father says that as a boy he once started with a broken pocket knife and ended up with a bicycle. When they were sharing an apartment in Hamilton, Donnie planted onions along the front walk, telling the landlady they were lillies. He later had a house on land at the outskirts of Hamilton, where he raised a large garden and kept geese, ducks, and chickens. Sweet corn and ripe tomatoes were two of the things guests could count on when visiting in the late summer.
After he retired, he and his family moved to nearby Fairfield, Ohio. Jeaneice Hopkins died there on October 21, 1990 after a long illness. Donnie moved with his son Bob to Bull Shoals, Arkansas in 1991 upon Bob's retirement. He enjoyed going for rides on the lake in their boat. Donald Hopkins died in Bull Shoals on July 29, 1994.
---
Beckett family genealogy reports.
Return to Arthur Howard Hopkins family page.
This file was last updated on 4/16/2012.