Mary Emma Hopkins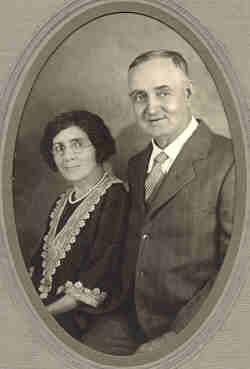 Emma and Orville Gossett
Emma Hopkins was the youngest daughter of Barclay and Mary Ann Hopkins. She remained unmarried for many years, marrying Orville T. Gossett on August 25, 1928 at the age of 51. She lived with the Hopkins families in all the oil camps they worked in, finally settling in Eldorado and Wichita, Kansas. She was very close to her younger brother, Charley, and carried on a frequent correspondence with him. I have many letters from her to Charley, which he saved and included in the family treasures that have come down to me.
As the youngest children, it fell to her and Charley to look after their mother in her old age. This duty they faithfully and lovingly carried out. When that was no longer necessary, they both married.
Obituaries
In Memory of Emma M. Gossett
February 25, 1877 - March 12, 1962
Services: Downing Mortuary Chapel, Wichita, Kansas, March 14, 1962 at 2:00 p. m.
Clergyman: Rev. Charles M. Pomeroy, West Side Baptist Church
Soloist: Mrs. Gary Vaughn
Songs: Beyond The Sunset; Someday The Silver Cord Will Break
Organist: Mrs. Anne Allen
Casket Bearers: Howard Hopkins, Ralph Hopkins, Howard Gossett, Crandall Bradbury, Dolan Welsh, Elmer Woolsey
Interment: Highland Cemetery, 1001 N. Hillside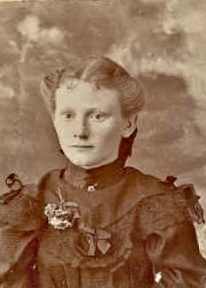 Emma as a young girl
Orville Gossett
Funeral services for Orville T. Gossett, age 84 of 323 1/2 S. Dodge, will be held from the Downing mortuary chapel 1:30 Saturday afternoon, Rev. G. R. Gross officiating. Interment will be in Sunset cemetery, El Dorado, Kan.
Register Report for Mary Emma Hopkins
I've prepared a register report in pdf format for Emma, including Orville's first marriage and his descendants from that marriage.
Please note that there is an obituary for Emma on the memorial page at Highland Cemetery, as well as a photo of her taken later in life.
---
Back to Barclay Hopkins Family
This file was last updated on 4/19/2012.