The Wolf and Taphorn Families
The Wolf Family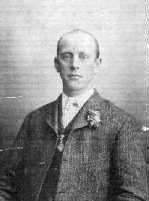 John Henry Wolf
My mother's ancestors came from Germany. Her father's name was John Henry Wolf, and her mother was Anna Taphorn.
John Henry's parents were Joseph Heinrich Wolf (b. 1842 in Prussia, d. 1926 in Cincinnati), and Franzisca Brüegge (b. 1821 in Cincinnati, d. 1920 in Cincinnati), daughter of John Bernard Brüegge (1822-1888) and Elizabeth Termer (1825-1888). Joseph Heinrich was included in the 1870 Census, and was reported in the 1920 Census to have been naturalized in 1877. He and his wife Franzisca were buried in St. Mary's Cemetery in Cincinnati.
John Henry's grandfather was named Lucas Wolf. No more is known about him or his wife at this time.
John Henry Wolf was born on 25 Mar 1874 in Cincinnati. Henry worked for his father in his dairy business, which was located a little north of Mt. Healthy, in Cincinnati, Ohio. He died on 5 Mar 1919 as a result of the influenza epidemic that swept the country in 1918-19. He was buried in St. Mary's Cemetery. His mother died of influenza the following year.
Please see a register report for the Wolf family (in pdf format) for more details.
I've compiled information about the recorded birthplaces of foreign-born Wolfs in Cincinnati in the 1850-1870 Censuses. The later Censuses tended to give the localities of their births, rather than the county, which is more helpful in tracing people back to their origins.
---
I read that this was one of the most devastating epidemics the country has experienced. It killed at least 21 million people worldwide, possibly as many as 50 million, and killed 700,000 people in the U. S. (2-3% of the population). A quarter of the U. S. population had the flu during this pandemic.
Source: Paul Recer, Associated Press, 3/21/1997
For more information about the flu epidemic in Cincinnati, see this article from the University of Michigan.
The Taphorn Family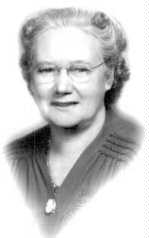 Anna Taphorn
After John Henry Wolf died, Anna married John Fritz on 22 Feb 1922. They had one daughter, and raised the children of John Henry and Anna until their maturity. Anna was born on 29 Jul 1883 in Cincinnati, and died on 22 Oct 1963. She was buried in Arlington Memorial Gardens, Mt. Healthy, Ohio.
John Fritz was born 6 Jan 1883 in Cincinnati, a son of William Fritz and Caroline Brossart. He died on 9 Aug 1979, and is buried in Arlington Memorial Gardens.
Anna's parents were Johann Heinrich Taphorn and Maria Helena Feldhaus, who married on 1 May 1866 in Cincinnati at the Holy Trinity Catholic Church. He was born in Lohne, Oldenburg, in northern Germany on 30 Apr 1841, son of Johann Herman Taphorn and Maria Elisabeth Grabber. Heinrich emigrated on the ship Schiller from Bremen to Baltimore, arriving on 26 Oct 1860, and worked as a teamster in Cincinnati. He served in the Civil War in Company A, 4th Regiment, Ohio Cavalry Volunteers from 8 Sep 1862 to 24 Jun 1865. Following their marriage, he and the family moved to a farm in Marion County, Kansas for a time, then returned to Cincinnati. There he worked as a teamster until failing health forced his retirement. He was six feet tall, had blue eyes, brown hair, a ruddy complexion, and weighed 245 pounds in his later years. Henry died on 20 Nov 1917, and was buried on 23 Nov 1917 in St. Joseph Cemetery.
TAPHORN
Henry Taphorn, beloved husband of the late Mary Taphorn (nee Feldhaus), suddenly, Tuesday, November 20 at 3:30 p.m. aged 76 years. Funeral Friday from residence of his daughter, Mrs. August Selzer, 4928 Marion av. East Norwood, at 8:30 a.m. Requiem high mass at St. Peter and Paul's Church at 9 a.m. Autos leave Busse & Bergmann Co.'s office at 7:30 a.m.
From a clipping sent by Velma Schonder.
This is a link to information about Henry Taphorn's family on a German Web site.
Maria Feldhaus was born in Winkum, Oldenburg, Germany on 16 Mar 1844, daughter of Johann Heinrich Feldhaus and Maria Catharina Diekmann. She emigrated to New York on the ship Albert, arriving on 7 Aug 1865, bound for Cincinnati. She died on 14 Jul 1908, and was buried on 16 Jul 1908 in St. Joseph Cemetery, next to her husband.
Death Notice
On Tuesday the 14th of July 1908 at 6:35 in the morning, at the age of 62 years, Mary Taphorn, born Feldhaus, in her residence at 1173 Sherman Avenue. The Funeral will take place at 7:30 this morning from the funeral home. Requiem High Mass in St. Heinrich's Church at 8 A. M. Friends are cordially invited by the grieving surviving relatives.
From the 16 Jul 1908 issue of the Cincinnati Freie Presse, p. 8.
Translated from the original German.
Please see a register report for the Taphorn family in pdf format.
This is a link to information about Maria Feldhaus's family on a German Web site.
---
I've compiled records of Taphorns living in Cincinnati from the 1850-1870 Censuses. A sizable percentage said they were from Oldenburg, especially in the 1860 Census. I've only been able to trace one Taphorn back to German records, but as more become available online, I expect to be able to trace more.
---
German immigration to Cincinnati began in sizable numbers began about 1840. One of the areas they settled in was called Over The Rhine, an area north and east of the Miami and Erie Canal. This was an area where the immigrants could set up businesses, go to church, socialize, and live comfortably. A number of German-language newspapers served this community. For further information about Germans in Cincinnati, see this FamilySearch page.
Note: I read in Angus Baxter's book In Search of Your German Roots that boys were sometimes given first names in honor of a grandfather or other relative, but that these names were never actually used. The middle name was the one that would be used in addressing them. The Wolf family has two examples of that practice. Joseph Henry Wolf and his son John Henry Wolf both went by their middle names, although in one Census return the name Joseph was used instead of Henry.

I also read on this Web page that it was customary to give a "spiritual" name as a first name, and a "call" name as a second given name. It was the call name that was the everyday name.
---
This file was last updated on 7/11/2019.