Thelma Cecilia Wolf
1915-1955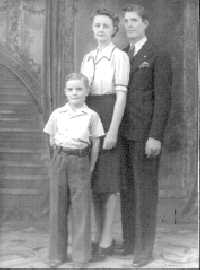 Arthur, Thelma & Howard Hopkins
My mother was Thelma Cecilia Wolf, the fifth child of Henry and Anna (Taphorn) Wolf. She was born in Cincinnati, Ohio on May 15, 1915. She and my father married on March 9, 1935 in Hamilton, Ohio. I was their only child; they divorced in 1945.
My mother remarried to Luther Kreugel and had two daughters by him. This marriage was not a successful one for her, and ended tragically. She died on November 3, 1955 at the age of 40, and was buried in the Arlington Memorial Gardens in Mt. Healthy, Ohio. Her daughters were adopted by her sister and her husband.
---
This file was last updated on 7/15/2004.