Mary Ann Hopkins Williams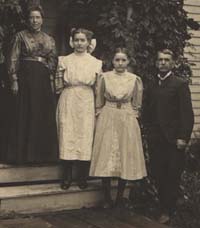 Mary Ann & Gomer Williams & daughters
Mary Ann Hopkins was the daughter of William Griffith Hopkins and Ann Edmundson. She was born near Ft. Wayne in 1856. She moved to Illinois with her step-mother Caroline and her children in about 1880. Mary Ann married Gomer Williams in Osco, Illinois in 1890. He had two sons, Howard and Roy, by a previous marriage. Mary Ann and Gomer had two daughters, Esther and Ruth Birdora.
Family Group Sheet

Wife: Mary Ann Hopkins  
       Born: 27-Feb-1856     in: Adams County, Indiana                     
       Died:  4-Aug-1930     in: Orion, Henry County, Illinois             
     Buried in: Henry County, Illinois                    
Father: William Griffith Hopkins 
Mother: Ann Edmundson 

Husband: Gomer Williams  
Married: 10-Apr-1890     in: Osco, Henry County, Illinois              
       Died: ??-___-1911     in: Sherard, Mercer County, Illinois          

  1    Esther Williams  b. 1896 or 1897  
  2    Ruth Birdora Williams  b. 1898  d. ??-___-1922  

Mrs. Gomer Williams Taken in Death Monday
(Orion, Illinois)
Mrs. Gomer Williams, aged 74 years, a former resident of Orion, who of late years had been making her home at the home of her daughter, Mrs. Dorsey Durman, passed away in death at 5:45 Monday evening, August 4, at the Durman home, northwest of Orion. Mrs. Williams had been in failing health for the past two years, her condition gradually becoming more serious until the end came peacefully Monday evening.
Miss Mary Hopkins was born near Fort Wayne, Indiana, on Feb. 27, 1856, and came to Osco nearly fifty years ago. She was united in marriage at Osco on April 10, 1890, to Gomer Williams, of Cable, and to that union two daughters were born, Mrs. Esther Durman, with whom she made her home of late, and Miss Birdora Williams, who will be remembered as an assistant in the Farmers State Bank of Orion, who passed away in death eight years ago.
Surviving relatives are her daughter, Mrs. Dorsey Durman, two step-sons, Howard Williams of near Coal Valley, and Roy B. Williams of Dayton, Ohio, four grandchildren, two great grandchildren, a brother, Walter G. Hopkins, of Osco, and a sister, Mrs. John D. Jones, of Maywood, Ill.
Mrs. Williams was a devoted member of the Baptist church at the time of her death but previous she had for many years been an active member of the Congregational churches of Cable and Sherrard, where the family resided previous to the death of her husband, eleven years ago, after which the family moved to Orion.
Funeral services will be held at the Durman home at 2:30 o'clock this afternoon, with Rev. Sawyer, of Rio, and old friend of the deceased, presiding. Burial will be made at Glenwood cemetery. The singers at the funeral will be Mrs. Robert Haddick, of East Moline, and Mrs. Archie Sheets, of near Aledo. The pallbearers selected are nephews of the deceased, Arthur Washburn, James Durman, Wesley Jones, Clifford Williams, George Montgomery and Homer Sharp.
Those from a distance who have arrived for the funeral are Mr. and Mrs. Roy Williams, of Dayton, Ohio, Mrs. J. D. Jones, of Maywood, Ill., and Mr. and Mrs. Edward Wright, of St. Charles, Ill.
---
Back to William Griffith Hopkins
This file was last updated on 7/15/2004.