The Family of William Griffith Hopkins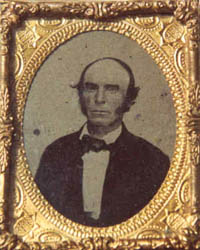 William G. Hopkins late in life.
William Griffith Hopkins was the 6th son of Hezekiah and Martha (Griffith) Hopkins. He was born in Philadelphia in 1809, where his father was a merchant and accountant. The family decided to move to the new Ohio country in 1820, when he was eleven. He grew up there in Warren County near Waynesville. He and his family were members of the Miami Quaker Meeting in Waynesville.
William's father died three years after the family moved to Ohio. His widow and children remained in Ohio for several years, and the elder children married there. William married Nancy Cavender, daughter of Samuel Cavender and Abigail Robbins of Montgomery County, in 1832. Six children were born to them, but only two lived to maturity: Benjamin and Barclay. Nancy died in 1841 at the age of 28. Their two youngest children died in 1841 and 1842, so I suspect that there was an epidemic of some kind then.
William and Nancy and their children had moved to Indiana in 1839 or 1840 (he bought land in 1839). They settled in Jay County near Camden, later called Pennville. It was a town largely made up of Quakers, and William was a prominent member of the Camden Meeting. William was appointed clerk of the men's meeting, and was also a member of committees concerned with the care of the meeting house and other business matters. He was also a member of the first government of the town.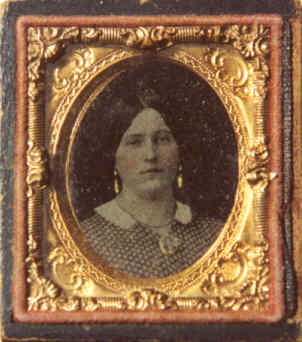 This might be a picture of Ann Edmundson,
William's second wife. However, there is no
identification with the picture. It
was saved along with pictures of
William and his third wife, Caroline.
After Nancy died, William married Ann Edmundson, daughter of Thomas and Elizabeth (Morsell) Edmundson, in 1842. The Edmundsons were another prominent Quaker family in Jay County. William and Ann had three children, only one of whom lived to maturity. Ann died in 1860 at the age of 41.
William's third wife was Caroline Smith, daughter of Ephraim Smith and Martha Ireland, who was born in Vermont on 24 July 1820. She lived in Ft. Wayne prior to their marriage, and was a seamstress. She and William married in 1861 and had two children. Caroline outlived William by 19 years, dying in Illinois in 1888.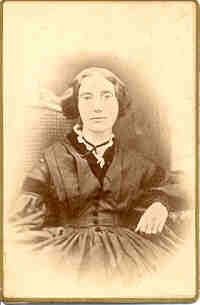 Caroline Smith Hopkins
Like his father, William was a merchant. He operated a store in Pennville, and also farmed land he owned near Balbec. When he died, he asked that his widow and children carry on the business, but after a short time they were unable to do so. My father told me that William also acted as a guide for wagon trains going from Cincinnati to Ft. Wayne, since he was a Quaker and on good terms with the Indians along the route. There is also a record of his having been a Justice of the Peace.
Even though he was a Quaker, William was in the military service during the Civil War. A number of other Quakers in Jay County and throughout Indiana served as well. Quakers were against warfare, but they were also against slavery, and the anti-slavery side won out in a sizable percentage of cases.
William died in 1869 at the age of fifty-nine. He was buried in the old Quaker burying ground in Pennville. I was unable to find a tombstone for him there, but it wasn't unusual for Quakers to forego a tombstone in favor of simplicity.
Descendants of William Griffith Hopkins
I've prepared a register report in pdf format showing the children from each of his three marriages. There are separate pages for five of William's children. These are the links to take you to those pages, which include register reports and other information:
---
Back to Ohio and Indiana
&nbsp
William Griffith Hopkins' will
This file was last updated on 3/21/2012.