Vintners Company Certificates
Vintners Company Apprenticeships
The following information is about William Hopkins, and his sons, William and Benjamin, and his grandson William III, son of William, Jr., as well as others who may be connected to them.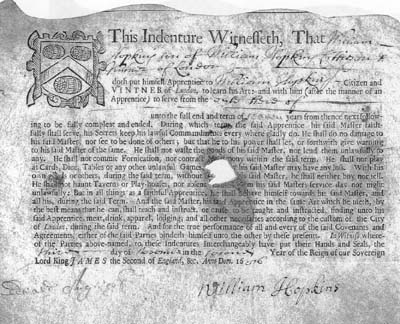 This is the certificate for the apprenticship of William Hopkins the younger to his father, William Hopkins the elder, in the Vintners Company of London. It is the original document, and is signed by William (the apprentice). The date of the certificate is 3 Nov 1686, when William the younger would have been sixteen, a typical age for an apprenticship to begin. William the younger was given the freedom of the city in June 1695 (City Freedom Admission Papers Index, 1681-1700).
In the Quaker records, William the younger is said to be a shopkeeper, while Benjamin and William the elder are said to be Vintners and gardeners. William the younger lived in Wooburn, Buckinghamshire after his marriage. I checked the records of the Gardeners Company, but didn't find either William or Benjamin Hopkins in them.
There are more records of apprenticeships from the Vintners Company records in this pdf file. The one for William Hopkins, son of William, draper of Wooburn, Buckinghamshire, dated 5 Oct 1715, is one of primary interest. This record is interesting to me because it identifies the father as being in Wooburn, where William the younger lived, and because it gives his occupation as draper, not shopkeeper. A draper was a cloth merchant, so the two terms are not inconsistent.
I tried to get a copy of this 1715 apprenticeship certificate for William Hopkins, but it was missing from the bundle at the Metropolitan Archives. These old documents are in wonderful condition, and are included in the digitization program at the Archives, so more information may become available online through this program.
---
On 1 Mar 1698/9, William Hopkins wrote a letter to William Alcocke of Horninglow, Staffordshire, about a request that he take on a local boy as an apprentice. He addresses Alcock as "loving cousin;" he also called William Alcock of Horninglow a cousin in his 1705 will. The boy was the son of Thomas Coulson. On 5 Sep 1699, Thomas Couson, son of Thomas, miller, of Staffordshire, was taken on as an apprentice in the Vintners Guild by Will. Hopkins. I think this proves that William Hopkins of Southwark was the author of this letter, and the master of this apprentice.
---
Another apprenticeship that's interesting is that of James Healey, son of Richard, late of Barton, Staffordshire, to William Hopkins in 1692. Healey and Hopkins families were connected in other ways (through membership in the Friends, through naming of children, and witnessing births), so it's possible that this is my ancestor, William Hopkins, who is the master James was apprenticed to. Here is an image of the document: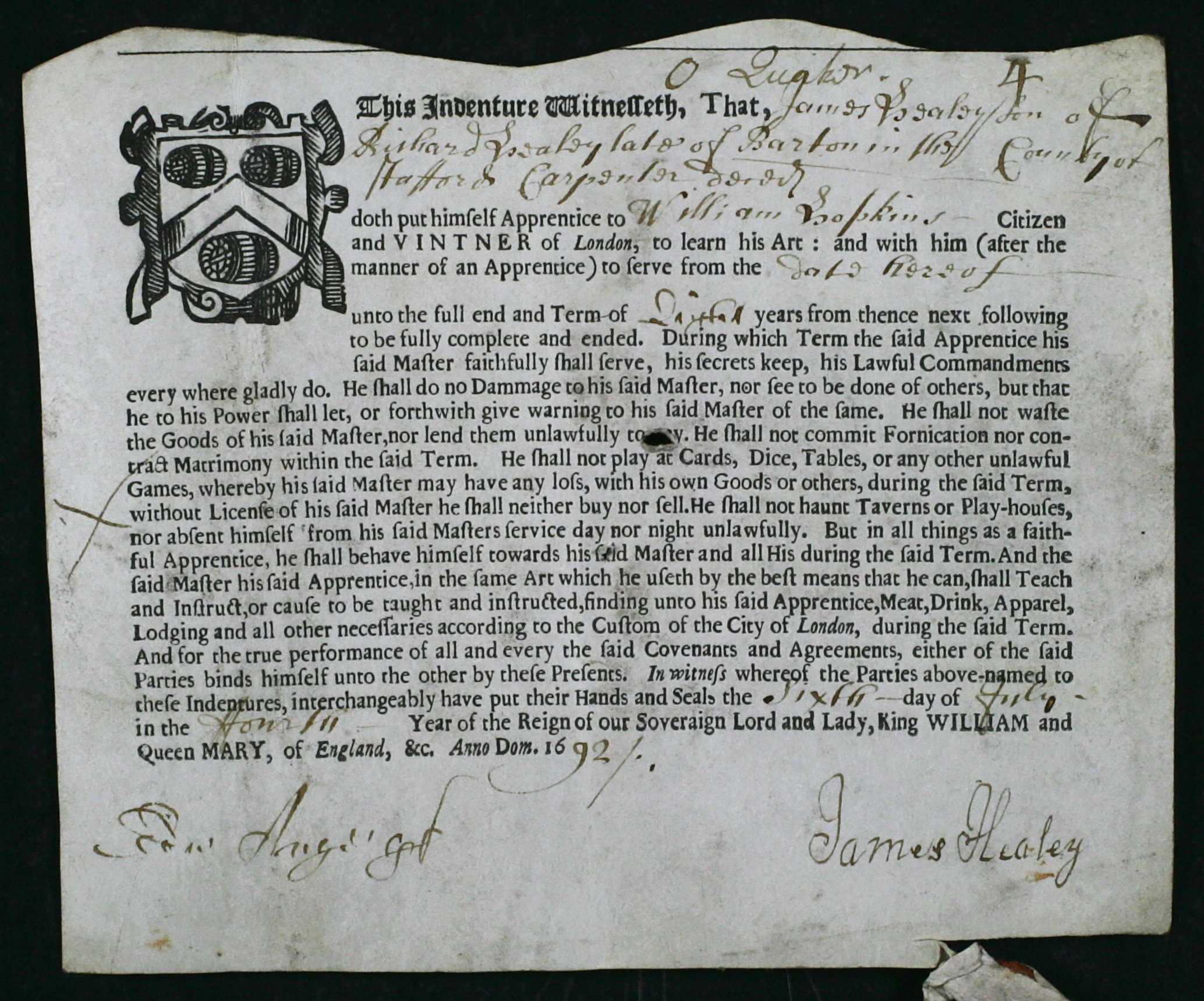 There are other apprenticeships to William Hopkins of youths from Staffordshire families (see the link above). This makes me think that these, along with other connections to Staffordshire, make that county a possible birthplace for William.
There were two apprentices taken on by Benjamin Hopkins, son of William. Benjamin had been made a member of the Vintners Guild on 14 May 1705, see below. The first was on 7 May 1706 for Robert Mawley, son of John, slater of Oundle, Northamptonshire. The second apprenticeship was on 1 May 1711, for Edward Martin, son of John, deceased, laborer of Wanstead, Essex. (Northamptonshire was where the Haddons came from --Benjamin was married to Sarah Haddon-- and Wanstead was the home of Hannah Bosely, who was mentioned in William Hopkins' 1705 will as his kinswoman. I don't yet know if those connections had anything to do with these apprenticeships.) These are the only apprenticeships to Benjamin that I've found before his death in 1730.
Vintners Company Freedom Admissions
The records I've found for freedom admissions in the Vintners Company records are in this pdf file. I found no record that was clearly for William Hopkins the elder. If he paid a fee for admission, then the record for 1661 could be his, but there is no proof for this. The record for 4 Octor. 1721 might be for William III, son of William the younger, who was apprenticed in 1715.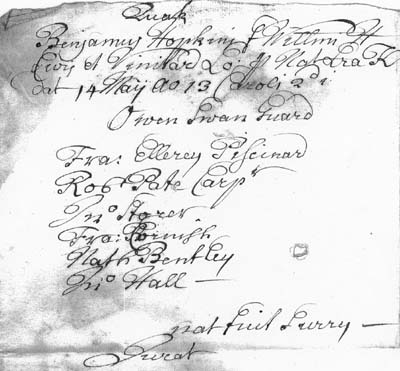 This is the certificate giving Benjamin Hopkins membership in the Vintners Company (London Metropolitan Archive, Ref No COL/CHD/FR/02/0212-0217). It was dated 14 May 1705, and signed by Robert Pate, carpenter, who was a friend of William Hopkins and mentioned in his will. William died on 16 July 1705. Benjamin was admitted to the Vintners by Patrimony, rather than apprenticship, because his father was a member. The date of his freedom admission is 2 Oct 1705. (City Freedom Admission Papers Index, 1701-1713).
Here is a partial translation:
Quak
Benjamin Hopkins f (son of) Willm H
Civis et Vinitar Lo p Nat Lra K
dat 14 May do 13 Caroli 2 1

Owen Swan Guard

Fra: Ellerey Pilcinar
Robt Pate Carpt
Jno Harer
Fra: Cornish
Nath Bentley
Jno Hall

nat fuit Surry (born Surry)
Jweat
Vintners Chronological List
I ordered FHL film #1067990, which contains a roll of members arranged chronologically, from 1683 to 1939 (MS 15208). I only found one name of interest, a Benjamin Hopkins of the upper end of Kent Street. He was admitted on 12 Jun 1727, and his date of apprenticeship was given as 1727. I don't know if he is related to my family or not.
There was another list on this film, Freedom Admissions 1428-1589, which was very hard to read because of the handwriting style used. There was a note in the film saying that it had been indexed in the name list below.
Vintners Name Index
I ordered FHL film #1850415, a set of personal name indexes, that were prepared from the Vintners Company records in the 20th century. I transcribed the names of interest to me into a spreadsheet, and present it here in pdf format. These indexes give page numbers where the names were found, as well as dates or date ranges for each name. I understand that more information about these names is available at a commercial site for a fee.
---
Back to William Hopkins page …§… or to Staffordshire page.
This file was last updated on 3/29/2017.