The Family of Walter
and Edna Kilmer Hopkins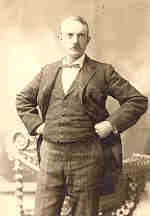 Walter Griffith Hopkins
Walter Griffith Hopkins was the son of William Griffith Hopkins and Caroline Smith. He was born just seven years before his father died. His mother and her young children (and Mary Ann, the daughter of William and Ann) moved to Illinois about 1880. Walter worked for the Rock Island Railroad in Osco as a station agent most of his career.
Walter married Edna Kilmer in Osco in 1886; they had four children. Walter was a respected member of his community, as attested to by his obituary, below.
Family Group Sheet

Husband: Walter Griffith Hopkins  
       Born: 07-Jan-1862     in: Pennville, Jay County, Indiana            
       Died: ??-___-1932     in: Osco, Henry County, Illinois              
        Occupation: Station Agent               
Father: William Griffith Hopkins 
Mother: Caroline Smith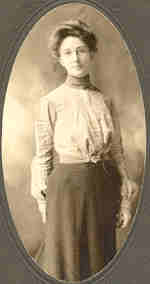 Edna Kilmer Hopkins

Wife: Edna D. Kilmer  
Married: 17-Mar-1886     in: Osco, Henry County, Illinois              
       Born: ??-Apr-1868     in: Illinois                                  

  1    Chester W. Hopkins  b. ??-Aug-1886  
  2    Justin J. Hopkins  b. ??-Aug-1888  
  3    Dorothy C. Hopkins  b. ??-Dec-1891  
  4    Edna Hope Hopkins  b. ??-Nov-1898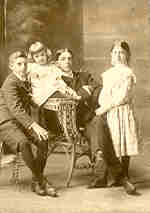 Walter & Edna's children
Walter Hopkins Of Osco Passes
Veteran Station Agent Succumbs Following Stroke of Paralysis. (Davenport Times)
Osco, Feb. 24 -- Walter G. Hopkins, age 70 years and a resident of Osco for nearly half a century, died in his home at 1:30 yesterday afternoon as a result of a stroke of paralysis and following two weeks' illness. He had been failing in health the last two years and was forced to retire from his position he had held since coming to Osco. Mr. Hopkins was born in Pennville, Ind., on Jan. 7, 1862, and came to Osco nearly fifty years ago. He married Edna Kilmer on March 17, 1886, in Osco. He was a member and a steward of the Community church, a member of the Masonic chapter at Orion, the Modern Woodmen lodge and the boy scout committee for the local troop. (& Orion O. E. S. written in by hand) Surviving are the widow; two daughters, Mrs. Archie Kirkland of Troy, N. Y., and E. Hope Hopkins of Chicago, and two sons, Chester of New York and Justin of Philadelphia. (Written by hand at top: Member of R. I. Ry 25 Yr Club named the W. G. Hopkins Chapter in his honor.)
---
Back to William Griffith Hopkins
This file was last updated on 7/15/2004.