The Griffith Family
This is a history of the Griffith family descended from Walter Griffith, who married Martha Cox in Christ Church, Philadelphia in 1720. The Griffith family is related to my Hopkins family through the marriage of Martha Griffith, grand-daughter of Walter and Martha, to Hezekiah Hopkins in 1789.
Here is a register report showing that connection, and the descendants of Walter and Martha.
Introduction
The following are some records about Walter Griffith and his family that I've found in records concerning Philadelphia and neighboring New Jersey. They begin to provide some idea of his life, but no indication of his origins, or of his death. Our family believed that Walter was Welsh, but there is no proof for this. Any comments or additions to this information would be welcomed. Please see my contact link on the Home page.
Event
Source
6 Aug 1720 - Marriage of Walter Griffith and Martha Cox (both of Philadelphia)
Marriages at Christ Church, Philadelphia, Pennsylvania Archives, Series 2, Vol 8, 1878, p. 58.
3 Dec 1721 - Christening of Mary Griffiths, daughter of Walter and Martha, born 18 Nov
Charles R. Hildeburn, compiler, Baptisms and Burials from the records of Christ Church, Philadelphia, 1709-1760, p. 45. Baltimore: Clearfield Company, 1995.
MAJOR, ELIN. Late of London, now of Philadelphia. Widow.
James Steward of Philadelphia, tailor becomes executor and receives property in Brumpton Lane parish of Kensington, London, which was willed to testatrix by her father Edward Stark and also any legacy left to testatrix by her mother Elin Stark. Ann Steward his daughter mentioned. Witnesses: Thomas Perrey, Henry Jones, Walter Gruffyth, Junior and Edward Crossthwaite. Signed April 18th, 1722; proved May 18th, 1722. Recorded Book D, page 314.
Abstracts of Philadelphia County Wills, Vol. 3, pt. 1. Philadelphia: Genealogical Society of Pennsylvania, 1893.
1726 - Birth of John Griffith, son of Walter and Martha, 17 August.
Hopkins-Griffith records (1723-1891)
1731 - Chistening of Sarah, daughter of Walter and Martha, 21 February.
Pennsylvania, Births and Christenings, 1709-1950, FamilySearch. Christ Church and Saint Peters
1733 - Walter Griffiths paid from estate of John Brown, Sr, Deptford Twp, Gloucester County, 17 Sep 1733.
New Jersey Colonial Documents, Calendar of Wills 1730-1750, Vol 30, p. 68
1733 - Griffith's mill and Griffith's tavern were mentioned in
Gloucester County, NJ Tax Roll, 11 Dec 1733
Thomas Cushing and Charles E. Sheppard, History of Gloucester, Salem, and Cumberland Counties, p. 108. Woodbury, NJ: Gloucester County Historical Society, 1974 (1883).
1733 - Walter Griffith made inventory of estate of Mark Lyndsey, Gloucester County
New Jersey Colonial Documents, Calendar of Wills 1730-1750, Vol 30, p. 312
1735 - Walter Griffeth mentioned in will of Joseph Richardson, Gloucester County, 27 May 1735.
New Jersey Colonial Documents, Calendar of Wills 1730-1750, Vol 30, p. 397
1736 - Walter Griffes mentioned in the will of Jacob Medcalf, Newton Twp, Gloucester County
New Jersey Colonial Documents, Calendar of Wills 1730-1750, Vol 30, p. 329
1742 - Land survey for Walter Griffith, grantee, in Gloucester County, 250 acres. 19 Jun 1742.
Book B (Bull's book) : Folio 9 [PWESJ004], Warrant Date: 9 Apr 1737.
1744, Feb. 25. Gryffith (Griffith), Walter Jr., of Newton, Gloucester Co., cordwainer. Int. Adm'r, Walter Gruffith, of Gloucester township and County. Bondsman -- Henry Sparks. Witnesses -- Daniel Eastlake, Henry Siddons. Lib. 5, p. 180.
1743, Oct. 25. Inventory (£12.16.6) includes shoemaker's tools, £0.11.6.
Appraisers -- Jno. Kaighin, Robert Stephens.
New Jersey Colonial Documents, Vol 30, Calendar of Wills -- 1730-1750, p. 208
---
Griffith Family History
The image below is a transcription from the Hopkins family Bible records done by my Great-Uncle Charles Logan Hopkins. Charley gathered the available family records, and compiled a genealogical history from them. The records had been copied from the family Bible of the parents to those of the sons and daughters for several generations, as was often the custom at that time.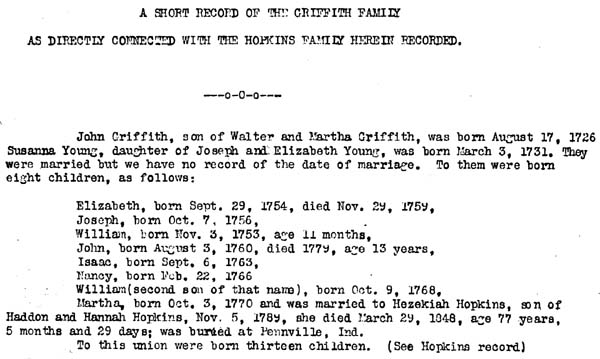 Walter and Martha Griffith's son John Griffith (Gruffyth) was a farmer and Justice of the Court of Common Pleas in Gloucester County, NJ in 1785, 1790, and 1795.1 He witnessed the will of Jacob Hugg on 24 Nov 1759.2 He was on the list of ratables for Waterford Twp in 1778.3 On 30 Aug 1787 John Griffith mentioned in will of Nathaniel Lippincott, of Waterfore Twp, having tenure of his meadow.4 On 16 Jul 1793 Jno Griffyth was one of the Justices of the Peace who officiated at the manumission of Tabby Still, a slave of Joseph Hugg of Gloucester Town.5
He married Susannah Young of Gloucester County, dauthter of Joseph and Elizabeth, in 1754.6 They had eight children. Elizabeth died in 1780; John and some of the Griffith family moved to Pennsylvania about 1800.
1 Cushing and Sheppard, History of Gloucester, Salem, and Cumberland Counties, pp. 137 and 139.
2 New Jersey Colonial Documents, Calendar of Wills, 1751-1760, p. 168
3 Genealogical Magazine of New Jersey, V 46, #3, p. 142
4 Genealogical Society of Pennsylvania, Abstract of Philadelphia County Wills, Book 3
5 HeritageQuest Online, Certificates of Manumissions
6 Documents Relating to the Colonial History of New Jersey, Vol 22. p. 160.
John GRUFFYTH, Joseph HARRISON and John DOE, all of the County of Gloucester, yeoman... [bound to]... Jonathan BELCHER, Governor... 500 pounds... 29 June 1754. ... John GRUFFYTH... obtained license of marriage for himself and for Susanna YOUNG of ye Township of Greenwich, spinster... [w] Sarah HOWELL, Hannah HOWELL.
The Young Family
John and Elizabeth Young lived in Greenwich Twp, Gloucester County, New Jersey. They had five daughters, according this will:
1740, 3d mo. (May) 20th. Young, Joseph, of Greenwich Township, Gloucester Co., yeoman: will of. Executors - Francis Eastlack and Joshua Lord. 420 ft. square around the graves in my garden to my daughter, Ame Yong, to remain a burying-place for my children and their childrenŐs children forever. Wife, Elizabeth, £60 in lieu of dower, and the home plantation (under care of the executors) so long as she remains my widow. Daughter, Ame Yong, to possess the same when clear from the incumbrance of my wife, provided she will be 18. Said place to be appraised and the valus divided equally among all my daughters - Mary, Martha, Susanna, Phebe and Ame, as they come to age. Witnesses - Garrat Dewees, Henry Treadway, William Hanby. Proved 22 March, 1749-50. Lib. 6, p. 299.

1749-50, 1st mo. (Mar.), 13, 14. Inventory (£167.09 4 1/2) includes small Bibles and other books (£1.03), cattle (£47.15.0), market boat and rigging, canoe. Appraisers - Wm. Wilkins, Solomon Lippincott.3
3 William Nelson and A. Van Doren Honeyman, Calendar of New Jersey Wills, Administrations, etc., Volume 2 -- 1730-1750, p. 554.
Here is a register report in pdf format showing the family of Joseph and Elizabeth Young, and their daughter Susannah's family.
More Griffith Information
I've been unable to find much information about Joseph Griffith. He was the eldest child of John and Susannah.
There were listings for a Joseph Griffith in Waterford Twp, Gloucester County in 1778, and in Newton Twp, same county, in 1808. A Joseph Griffith died in Newton Twp on 2 Apr 1814, and the estate of Joseph Griffith, merchant, intestate, was put into administration on 21 Apr 1814. There were marriages recorded in Gloucester County between a Joseph Griffith and Ann Shivers 2 Jan 1806, and between a Joseph Griffith and Hannah Chew on 30 Jan 1808. I've found no definite proof that any of these Joseph Griffiths was the son of John and Susannah Griffith.
William Griffith was the youngest son of John and Susannah Griffith. He married Ruth Webster on 4 Mar 1802; they had seven children before Ruth died in 1815. He lived most of his life in Frankford Twp, Philadelphia County.
Martha Griffith, who had married Hezekiah Hopkins, moved to Pennsylvania from New Jersey about 1800, first to Upper Dublin Township and later to Southwark in Philadelphia County. From there they moved to Waynesville, Warren County, Ohio. See more about them at westward.htm.
Isaac Griffith lived for many years in the Northern Liberties of Philadelphia at 181 North Third Street. He was a carpenter and shop keeper. He married Elizabeth Lukens, daughter of David and Sarah (Lloyd) Lukens in 1809. Their son, Lukens Griffith, was born in 1810. He moved to Waynesville in 1837 and married Elizabeth Wharton there. He later moved to Pennville, Indiana, along with the Hopkins family.
I've transcribed Isaac Griffith's will from the microfilm of Philadelphia Will Book 22. In his will, he mentions a number of his relatives, including three sons of Martha Griffith Hopkins, his sister. Also provided for are the three daughters of his son Lukens Griffith.
Isaac also mentioned a nephew, John S. Griffith, and the sister-in-law of John S. Griffith, Susan W. Burr. I've found a John S. Griffith in Burlington, New Jersey who fits the age range, who was married to Ann Burr (or Barr), and who is connected to a Susan W. Burr in the records. I think he might be a son of Joseph Griffith, Isaac Griffith's younger brother. I've prepared a register report (pdf) for John S. Griffith and his family.
I found a reference to both Isaac and Lukens Griffith regarding a land transaction in Philadelphia. It's shown in this link in pdf format.
Lukens Griffith married twice: first to Elizabeth Wharton in 1837, and second to Sarah Grisell at Pennville in 1846.
---
His son Isaac, from the first marriage, was one of the Indiana Quakers who served in the Civil War, despite the family's religious convictions about war. After returning from the war, Isaac married Loura Apaline Taylor and had four children with her. After she died in 1882, he married a second time to Anna S. Griffith. He had one child with her before his untimely death in 1886. He and his family were living in western Kansas, and he was caught in a sudden blizzard on January 6th, and froze to death before he could reach his home. The following is a transcription of his obituary:
Thomas County Cat
January 14, 1886
Isaac Griffith
News came to Colby on Friday of the disappearance of the above named gentleman. His home was near Otterbourne*. He had been to town on Wednesday, returning just before night; was at the house of Thomas Trump, just one mile from his home, before the storm, leaving when the storm had scarcely commenced. On Thursday the storm continued all day, and on Friday the neighbors turned out in force to search for him. His wagon was tracked to within one hundred yards of his house, where the mules made several circles, and then drifted south with the storm. On Saturday the wagon was discovered within forty rods of the residence of Mr. Harris, and about three miles from his home, and in the wagon was found Mr. Griffith dead. He had loosened his team evidently intending to try to keep up until daylight. When found his head and body were out of the wagon, while his frozen limbs caught on the side boards and kept his body from falling to the ground. On Saturday night the body was taken to the residence of his mother, Squire Archer summonsed a jury, the verdict being "Frozen to death in the storm of January 6th."
Mr. Griffith was a man of about 40 years of age, a disabled Union soldier, industrius and strickly temperate, and well thought of by all his neighbors. He leaves a wife, mother, and 5 children. Funeral services took place on Monday at the residence of the mother of the deceased.
[* Otterbourne is a small historical community about 6 miles north and slightly east of Colby.]
Thomas County, The Early Years
by Bill James (1985)
Mr. Isaac Griffin
Mr. James recounts the story of Isaac's tragic death, saying that he died when his wagon got stuck in a ravine near Wes Hutchins' place. He says that Isaac was buried near his home on a small hill, but that his body was later removed and reinterred in the family burial plot in the east [presumably in Jay County, Indiana].
---
Also see an article in pdf format about Earl Garfield Griffith, son of Isaac, when he was a Washington State Legislator. There is a better photograph of him at this location.
There is an obituary of Earl Gordon Griffith, Earl's son, from the Denver Post.
Please see the New York Times, 13 Apr 1950, p 29 for an obituary of Eva Pearl Griffith Ulsaver, and the same paper, 22 Mar 1956, p 35, for an obituary of her husband, Ervin Ulsaver.
I've prepared a report in pdf format showing the Griffith will and administration records I've compiled from a number of sources. I hope these may be helpful to other Griffith researchers.
---
Go To Griffith Family History Excerpt
This file was last updated on 1/5/2020.