Moving West to Ohio & Indiana
1800s Timeline
1801-1809
Thomas Jefferson

1803
Louisiana Purchase

1809-1817
James Madison

1817-1825
James Monroe

1825-1829
John Quincy Adams

1829-1837
Andrew Jackson

1832
Joseph Hopkins
Died

1832
Benjamin Hopkins
Died

1837
Financial Panic

1837-1841
Martin Van Buren

1845
Texas Annexed

1848
Oregon Territory
Organized

1852
Richard Hopkins
Died

1861-1865
Abraham Lincoln

1869
William Griffith
Hopkins Died

1869
Hezekiah Haddon
Hopkins, Jr. Died

1901-1909
Theodore Roosevelt


Hezekiah and Martha Hopkins moved to Waynesville, Warren County, Ohio in October of 1820. Waynesville was a largely Quaker community. A number of Friends moved there from New Jersey and Pennsylvania. Hezekiah was a merchant there, but only lived three years after arriving in Ohio. Most of their children traveled with them, but three of them moved to Ohio on their own. Elizabeth, the eldest, joined the family in Ohio later and married Thomas Loomis there in 1828. Joseph, the eldest son, came to Warren County in December of 1820 and married Mary Ward Crispin in 1827. He died in 1832, leaving two young children. Charles went to Cincinnati in September of 1820, then moved to Warren County in 1825 and died there in 1836.
House in Pioneer Village
near Waynesville, Ohio
The other children of Hezekiah and Martha who moved to Ohio were Mary Ann, who married Joseph Shepherd in 1830 and Isaac Beall in 1843; Richard, who married Hannah Wharton in 1827 and Martha Hillis in 1848; Hannah, who married Benjamin Bacon in 1833; William (of whom more below); Beulah, who married Daniel Barcus in 1834; and Hezekiah, Jr., who married Elizabeth Dawson in 1844
.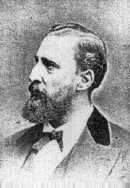 Benjamin Hopkins of Cincinnati
Besides these Hopkinses, Benjamin Hopkins and his family, John Jennings and his wife Sarah (Hopkins), and James Jennings and his wife Elizabeth (Hopkins) moved to Ohio as well. Benjamin and family left New Jersey in the fall of 1805, and arrived by 1 Jan 1806. He initially was in Warren County, then moved to Cincinnati about 1814. John Jennings arrived in Warren County in 1810. James Jennings arrived in Warren County by 1806. Benjamin, Sarah, and Elizabeth were the children of Ebenezer Hopkins, Jr. Lukens Griffith, Martha Griffith's cousin, also moved to Warren County by 1837, and later moved with them to Pennville, Indiana with his three children by his wife Elizabeth Wharton, who died in Warren County in 1842 .
I've composed a page about Warren County history that contains additional information about the early settlers of that county.
Indiana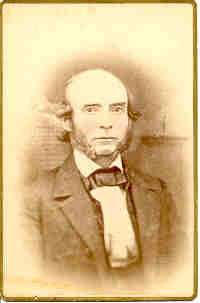 William G. Hopkins after his 3rd marriage.
Three of Hezekiah and Martha's sons, Richard, William Griffith, and Hezekiah, Jr., and two of their daughters, Elizabeth and Beulah, moved from Ohio to Indiana after his death. Richard, William, Hezekiah, and their mother moved to Jay County, Indiana about 1839 or 1840. Elizabeth and her husband moved there between 1840 and 1850. Beulah moved to Jay County and then to Fort Wayne, Allen County in 1841.
Richard, William, and Hezekiah were merchants and farmers in Pennville. Both Richard and William were clerks of the Camden Quaker Meeting. William was one of the trustees who incorporated the town in 1854, and Hezekiah was the first town clerk. William often served as a guide for groups of people who were journeying from Cincinnati to Fort Wayne, since he was a Quaker and on good terms with the Indians in the region. Elizabeth's husband Thomas Loomis was a school teacher in Pennville. Beulah and her husband, Daniel Barcus ran a boarding house in Fort Wayne.
William Griffith Hopkins married three times. His first wife was Nancy Cavender, whom he married in Ohio in 1832. After she died he married Ann Edmundson, and following her death married Caroline Smith. William, even though a member of the Friends, served in the Civil War in the Union Infantry, one of many Quakers in Indiana who did so. When he died in 1869, he left this will.
All but two of the children of William and Nancy Hopkins died young. There must have been an epidemic of some sort, because Nancy and four of the children died within a few months of one another in 1841-42. Their third child, Benjamin Cavender Hopkins, was born in 1837 and lived to maturity. He married Rebecca Griest, daughter of John and Hannah (Edmundson) Griest.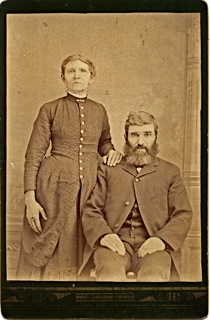 Mary Ann & Barclay Hopkins
William and Nancy's fourth child, Barclay Brown Hopkins, was born in 1839. Barclay married Mary Ann Dailey in 1861. They had eight children, Edward Alva, Minerva Alice, Joseph William, Arthur Howard, Samuel Luther, Mary Emma, James Dailey, and Charles Logan Hopkins. See a more complete description of this famiy and some of their records.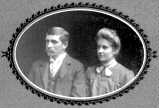 Arthur & Belle Hopkins
Arthur Howard Hopkins was born on September 18, 1871 in Pennville, Indiana. He married Belle Boone Green on January 21, 1905 in Wells County, Indiana. After the birth of their daughter Helen, they moved to Buffalo County, Nebraska to live. Belle was the daughter of James Thomas Boone, and the adopted daughter of Rev. Joel Green, a Baptist minister.
Jay County Land Records
I've researched three sources of land records for Jay County. One is the Deed Book Grantee Index, FHL film #1749620. From that index I learned that William Hopkins purchased 40 acres of land from Thomas Clark on May 11, 1839. Richard and William bought lots 3 and 4 in block 2 of Camden from John D. Jones on April 11, 1846. Martha, their mother, bought 80 acres from Benjamin Blachauk on June 4, 1839.
In the probate records for Martha Hopkins' estate, it says that 40 acres of land she had owned was offered for sale at public auction in May of 1849. It was located in the SE Q of NE Q of Section 11, T 20, N R 12 E. The land was appraised for $125.
The second source is a map of the county published in 1874, which shows land ownership. The Hopkinses settled near other Quakers who had come from Maryland, Pennsylvania, and New Jersey. The Birdsalls, Edmundsons, Griests, Hinshaws, Hopkinses, Paxsons, and Wrights bought land near one another in sections 14-17 of Penn Township. In 1852, at the time of his death, Richard owned lots 5 and 6 of block 2 of the original plat of Camden (Pennville) and 80 acres in section 27. William's estate owned 33 acres in section 15 in 1874. I've compiled a list of some of the land owners in Penn and nearby townships as shown on the 1874 map. There is also a scanned image(62k) of sections 14-17 of that map.
The third source is a map published in 1901 showing land ownership, as in the 1874 map. This map only covers Penn Township. I transcribed the names that were of interest to me, which correspond closely to those found in the earlier map and the deed index. There is also a scanned image (57k) of sections 14-16 of that map for comparison to the one above.
---
Next: Nebraska and Beyond
This file was last updated on 8/31/2020.