Emigration to West Jersey
1700s Timeline
1702-1714
Queen Anne

1714-1727
George I

1727-1760
George II

1730
Benjamin Hopkins
Died

1757
Ebenezer Hopkins
Died

1758
Sarah Haddon
Hopkins Died

1760-1820
George III

1768
Haddon Hopkins
Died

1775-1783
Revolutionary War

1787
Northwest Territory
Organized

1789
Federal Constitution
Ratified

1789-1797
George Washington

1797-1801
John Adams

1801-1809
Thomas Jefferson

1809-1817
James Madison

1817-1825
James Monroe

1823
Hezekiah Hopkins
Died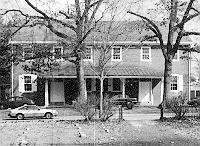 Haddonfield Meeting House Today
Photo by a Lord cousin
Elizabeth Haddon had come to West Jersey in 1701, as her father's representative, to manage their property there. She settled on a farm near present-day Haddonfield. She married John Estaugh on December 1, 1702.
The Estaughs had no children, and there were no male heirs in John Haddon's family (see John Haddon's will), so John and Elizabeth decided to adopt her sister Sarah Hopkins' youngest son Ebenezer, to be the heir to the Haddon estate, and to manage it after their deaths. Ebenezer Hopkins was brought to West Jersey in 1723, when he was five, by his aunt Elizabeth. Ebenezer wasn't adopted formally, but was raised by Elizabeth and John from the age of five, with very little contact with his father and mother in England.
John Estaugh died while on a Friends mission to Tortola, West Indies on October 6, 1742 at the age of 66. Elizabeth lived to be 82, dying on March 30, 1762.
Unfortunately, Ebenezer died in 1757, before Elizabeth, so his children became the heirs to the Haddon estate in America.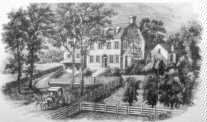 Elizabeth Haddon Estaugh's House
Note: The book Elizabeth Haddon Estaugh, 1680-1762, has a wealth of details about Elizabeth, the Haddon family, and about the early days of Haddonfield. It was written by Jeffery M. Dorwart and Elizabeth A. Lyons. It's available through the Historical Society of Haddonfield.
In 1737, when he was 19, Ebenezer (1718-1757) married Sarah Lord (1717-1796), daughter of James Lord and Elizabeth Clarke of Woodbury. (See an abstract of their Marriage Certificate.) They had seven children, the third of whom was named Haddon.
Ebenezer was a prominent man in West Jersey, partly owing to his position as heir to the Haddon lands and business interests. But he was also active in local affairs, serving as tax collector, overseer of the poor, and surveyor and overseer of roads for the county. He was elected as a representative to the legislature in 1745, and appointed Clerk of the Monthly Meeting in 1749. He didn't farm his lands to any great extent, but was primarily engaged in financial and civic pursuits.
Ebenezer died of smallpox, which his children also contracted but survived. After his death, Sarah devoted herself to the proper raising of her children, with the active participation of Elizabeth Haddon Estaugh. She moved into town and lived in the small house that is now in front of the library of the Haddonfield Historical Society.
Ebenezer's second son, Haddon Hopkins (1743-1768), married Hannah Stokes (1745-1814), daughter of Joshua Stokes and Amy Hinchman. They were married out of Meeting by a Justice of the Peace, and Haddon was disowned by the Haddonfield meeting. Haddon served as tax assessor for the county during his brief career. He and Hannah had only one child, Hezekiah (1767-1823), before his early death from typhus fever. In 1772 she remarried to Abraham Inskeep, son of Abraham and Sarah (Ward).
Haddon had been left this property in Elizabeth Estaugh's will:
"...my house and lot in Haddonfield next adjacent to Isaac Andrews, with all improvements whatsoever on said lot, and also my Plantation called Little Stebbing, purchased of Jonathan Bolton, & Lucy Hubbs, & Robert Montgomery; the quantity One Hundred Fifty seven Acres more or less, with all improvements thereon; and also the half of Willis' Right of Proprietary (which my Dear Father John Haddon purchased of Thomas Willis) with the Provisions and Remainder of the same. Also, Three Hundred Pounds Money aforesaid towards building, at the age of Twenty-One Years, with the interest from the time of my decease towards building at Old Haddonfield." Haddon's estate was passed down to Hezekiah upon his death.
Hezekiah Hopkins (1767-1823) married Martha Griffith (1770-1848), daughter of John Griffith and Susanna Young of Gloucester County, New Jersey in 1789. They lived in Gloucester County, then moved to Philadelphia County, Pennsylvania, where he was an accountant and a feed & flour store owner, before they moved to Ohio in 1820. Hezekiah was a merchant there until his death in 1823. He and Martha became members of the Friends early in their marriage, and continued to be part of that community after their emigration to Ohio.
James Lord Family
James Lord lived in Lancashire, England. His son Joshua Lord was born in Lancashire about 1669. Joshua came to West Jersey in 1884, settling in Gloucester County. He married twice, first to Sarah Wood, daughter of John Wood, in 1689, and second to Isabel Wats in 1709. He had eight children, and died in 1713.
The progenitor of the Lord family in America was Joshua Lord, formerly of Lancashire, England, who emigrated to the United States in 1684, and settled near the mouth of Woodbury Creek, in Gloucester County, from Whence he later removed to a farm now occupied by the subject of this biographical sketch [James J. Lord]. He married Miss Sarah, daughter of John Wood, of Gloucester County, formerly of Lancashire, England, on the 13th of January, 1689.
--from History of the Counties of Gloucester, Salem, & Cumberland, New Jersey,
Thomas Cushing, Philadelphia: Everts and Peck, 1883.
The Hopkins family is related to James Lord's family through the marriage of Ebenezer Hopkins to Sarah Lord, daughter of James Lord, son of Joshua, in 1737.
For more details about the Lord family, please see this register report (pdf) of the descendants of James Lord of Lancashire.
Robert Lord Family
There was another Lord who came early to West Jersey. Robert Lord was born in Bury, Lancashire. He settled in Gloucester County, and married Elizabeth. They had ten children. He died in 1735 in Burlington County.
It's not certain that Robert was related to Joshua Lord. I've found no record of his being James Lord's son, or any other record showing a definite relationship to Joshua Lord. However, in Joshua Lord's will, one of the witnesses was a Robert Lord. That's suggestive, but not proof. What little information I have about Robert Lord is in this register report (pdf). If anyone has more information about Robert and Joshua being related, please contact me.
Ward Families
There were a number of Ward families in West Jersey in the early days. The Hopkinses were related to one of them by marriage. Benjamin Hopkins, son of Ebenezer Hopkins, Jr. married Rebecca Ward, daughter of Isaac Ward, on 23 Oct 1794. Isaac was descended from George Ward (a miller at Upton) and Hannah Waynewright of Gloucester County. Benjamin and Rebecca moved to Ohio in late 1805, where they settled in Cincinnati. See the page Moving West to Ohio & Indiana for more details about them.
There were other Ward families in the vicinity. William and Israel Ward were brothers. Israel had come to Gloucester County from Long Island. He bought land from James Whitall in 1694. He was present at the marriage of George Ward and Hannah Waynewright in 1697, but there is no other document I've found to show if they were related. He died in 1734.
William Ward was born in Saverley Green, Staffordshire, England in 1677, and died in Gloucester County in 1702. His will states that he and Israel were brothers. He was also present at the marriage of George and Hannah.
There was also a James Ward who settled in Gloucester County, first buying land in 1694 on Woodbury Creek. He died in 1728. I've found no connection between him and the other Wards.
I've prepared register reports for George, William, Israel, and James Ward, in pdf format, which can be viewed through the following links.
If anyone has information showing a relationship among these Wards besides what I've found, please contact me.
---
Note: There are some connections between the Hopkinses of Haddonfield and the Maryland Hopkinses. Two marriages link the families in America, and more connections are possible in England. See mdhopkin.htm for details.
---
Next: The Hopkinses in Ohio and Indiana
See also: Hopkins Houses in Haddonfield
This file was last updated on 8/31/2020.