Work Is Where You Find It
Nebraska, Kansas, Kentucky, Wyoming, Indiana, Ohio, and Oklahoma
Nebraska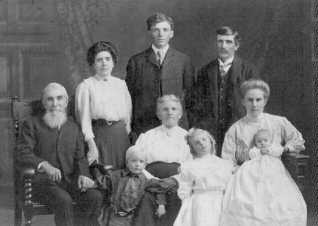 A portrait of the Arthur Hopkins Family
in Kearney, Nebraska in about 1909.
My father, Howard Hopkins, is the young boy
in the picture. The others are (l-r): Barclay,
Emma, Charles, Mary Ann, Helen,
Arthur and Belle (my grandparents), and Ruth.
Arthur Howard Hopkins had first been in Nebraska when he worked on a farm in Buffalo County in 1893, at the time of the Cherokee Strip Run, which he participated in. He didn't file a land claim, though, and returned to Nebraska and then to Indiana. Many years later, he described his experiences in making the run in a letter he wrote me when I was a boy.
Arthur always wanted to be a farmer. When he moved to Nebraska with his new wife and daughter, he went to work on a farm to save enough money to buy his own farm. But that didn't happen for many years. Belle developed medical problems and needed the care of a doctor too much for them to stay out in the country, so the family moved to Kearney, Nebraska. There Arthur worked as a teamster, hauling coal, sand, and grain with his wagon and team. Times were hard and he finally had to find other work to support his growing family. Their children were: Helen Margaret, Charles Howard, Ruth Emma, Donald Ernest, and Ralph Lester Hopkins.
Kansas
Arthur's youngest brother Charles had begun working in the oil fields of Kansas, and Arthur drove down there in his wagon in the middle of the winter of 1916-17 to look for work. He said it was the hardest trip he ever made. He had to camp out in the open most of the time, and little shelter could be found on the plains.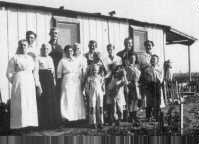 The Hopkins families in Eldorado, Kansas
When he got there he was hired as a pumper in the Eldorado field, and sent for the family to come down to Kansas in the spring by train. He and his brothers had worked in the Indiana oil fields, so this was work he was familiar with. Besides Arthur and Charley, their sister Alice's husband, James Stephens, worked in this field. Their mother, sister Emma, and brothers Will and Luther also joined them there. Most of the family was there at one time or another.
Kentucky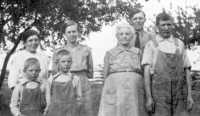 l-r: Emma, Ralph, Howard, Belle, Mary Ann,
Charles & Arthur Hopkins in Lee County, KY
In 1919 the field began laying off men because of the slow-down following the end of WW I. The family decided to move to Kentucky, where a new oil field was just opening up. Everyone went to Kentucky except Alice and James, who went to Texas, and Luther, who went to Lawrenceville, Illinois to work in an oil field there. The field in Kentucky was near Torrant and Zoe, in Lee County.
It was wild country then, with no paved roads, hardly any schools for the children, and rough living conditions. Arthur and Belle decided to send their children to a boarding school in Stanton the first year, but after that one year they decided that Belle and the children would move to Berea, Kentucky where the schools were much better. After another year the Lee County fields began laying off men, so Arthur tried to find work in Berea. He wasn't able to find anything that would pay enough to support them, so he decided to go to Wyoming to work in the oil fields there.
Wyoming and Beyond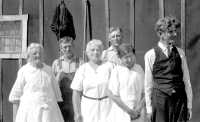 This picture was taken in the oil camp near Parkerton.
The family members are (l-r): Mary Ann,
Arthur, Alice, Charley, Emma, and Howard.
Charley, Emma, and their mother were already living in Parkerton, Wyoming by this time. Charley helped Arthur find a job in the oil fields. He continued to work there until 1930 when the depression caused layoffs. He tried to find work in Michigan and Kentucky, and worked in Ohio County, Kentucky for a while, but finally retired from oil field work and returned to Indiana in 1934. He bought a farm near Montpelier in Wells County and finally realized his dream of being a farmer, after so many years. He continued to live on the farm until he was in his 70s, when he moved into Montpelier and worked at the tomato cannery and a chemical factory for a time. He later moved to Hamilton, Ohio and lived there with his daughter Ruth until he died in 1967 at the age of 96.
For more about the family in Wyoming, go to
Parkerton, Wyoming
.
Oklahoma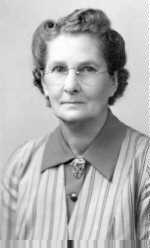 Belle G. Hopkins
Belle lived for many years in Berea, having been appointed Postmistress of the Berea College Post Office. She continued on there after her children had all graduated and gone on to their occupations. She moved to Owensboro, Kentucky when she retired in 1942 and lived with her son Ralph, who was working there as a chemist. After the war they moved to Bartlesville, Oklahoma, where Ralph worked for the U.S. Bureau of Mines as a research chemist until his death in a laboratory fire in 1972. Belle was an active member of the Baptist Church there, and was active in the Women's Circle and the Sunday School. She continued gardening and keeping house until she was quite old. She and Ralph moved from Bartlesville to Dewey, Oklahoma and lived there for a number of years. Her daughter Ruth joined them in Dewey for a time, then lived with and took care of her during her final years. Belle died in Dewey, Oklahoma on September 6, 1977 at the age of 91. She's buried in Dewey Cemetery.
---
This is the end of the narrative part of this family history. Please return to the Table of Contents to find links to pages about individual family members, and to the data and documents I've collected. I've also gathered some information about my mother's family, and have listed the sources I've used in my research.
For information about how the Spanish Flu of 1918-1920 affected my family, see this.
For information on the places the family worked in, go to Oil Field Wages and Working Conditions.
This file was last updated on 2/20/2023.