Family Beginnings in England
1600s Timeline
Reign
Events
1558-1603
Elizabeth I
1603-1625
James I
1624
George Fox Born
1625-1649
Charles I
~1634
William Hopkins Born
1648
George Fox's
Ministry Begins
1649-1660
Commonwealth
1651
Geoorge Fox in Staffordshire
1655
George Fox in Northamptonshire

1660-1685
Charles II
1660
London Yearly Meeting Established
1661-1665
Clarendon Code Enacted
1665
The Plague
1666
The Great Fire
Abt 1669
William Hopkins Marries
1683-84
Frost Fair on the Thames
1685-1688
James II
1687, 1688
Declarations of Indulgence
1689-1694
William & Mary
1689
Act of Toleration
1691
George Fox Dies
1694-1702
William III
Howland Great Wet Dock Constructed in Rotherhithe&nbsp
1702-1714
Anne
1705
William Hopkins Dies
1714-1727
George I
1718
Ebenezer Hopkins Born
1727-1760
George II
1730
Benjamin Hopkins Dies
1747
William Hopkins, Jr. Dies
The earliest Hopkins I know of in my line is William Hopkins (~1634-1705), a gardener and a member of the Society of Friends (Quakers) in St. George's Parish, Southwark, Surrey. He was a member of the Southwark Friends Meeting and the Vintner's Company of London. He married Katherine ---- (~1646-1704) by 1669.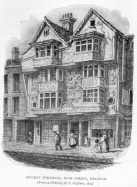 Old Southwark Houses
This is William's death record, showing his approximate age at death:
"William Hopkins of ye Parish of Georges Southwark aged abt. Seventy one years departed this life the sixteenth day of the fifth month Seventeen hundred & five of Consumption p report of ye Common searches"
Source: FHL #0811791, Southwark MM Births 1694-1773, Burials 1665-1776.
After years of searching, I've found nothing definite about William or where he's from prior to the information in the Quaker records in Southwark. I think he might have been apprenticed as a vintner, but haven't found a record of it. I think he was probably married before Katherine, but have found no record. All of his life before 1670 is a mystery remaining to be solved.
William's Possible Birthplaces
It was suggested to me that both William and Katherine were born in Northamptonshire, but I've been unable to find any source records to verify this. This was suggested due to the number of other families who emigrated to Haddonfield, New Jersey had roots in Northamptonshire, including the French, Gill, and Haddon families.
I've found baptism records for two William Hopkinses in Northamptonshire who might be my William. One was baptised in St. Giles parish, Northampton, on 3 Aug 1639. His parents were William and Ann Hopkines. The other was baptised on 5 Sep 1645 in Cold Ashby. His father was Willm Hopkins.
Source: Northamptonshire, England, Baptisms, Marriages and Burials, 1532-1812, Ancestry.com.
Both of these Williams were baptised several years after the birth year derived from William's death record, below, so these are, at best, possibilities.
I've also found evidence that William might have been from Staffordshire. In 1699, he wrote a letter to William Alcock of Horninglow, Staffordshire, about a boy being suggested as an apprentice to himself in the Vintners Company. He referred to Alcock as a "loving cousin," and to relations and Friends in Staffordshire. I've created a page about William's connections to Staffordshire.
There were a number of Hopkinses in Southwark in the 1600s. It's possible that William was born there, although I've found only one baptismal record for the approximate date of his birth (1634), as given in his burial records:
William Hopkins, son of William, baptised 30 Sep 1629, St. George the Martyr, Southwark
Source: London, England, Church of England Baptisms, Marriages, and Burials, 1538-1812 (Ancestry.com)
William's Family
William and Katherine had eleven children, of whom only four lived into maturity. William was born in 1670, and was said to be living in Buckinghamshire in his father's 1705 will. He was a shop keeper in Wooburn, Bucks, and died there about 1747. Abraham (1676-1700) died young and apparently without marrying. Sarah (1678-1742) married Thomas Fellows in 1701 and had nine children.
Benjamin (1685-1730), the youngest of William and Katherine's sons to survive, married Sarah Haddon (1687-1758) in the Horseleydown Meeting on 29th day, 6th month, 1706. The Quaker records describe both Benjamin and his father as members of the Vintners Guild and as gardeners. Benjamin and Sarah had twelve children, eight of whom died in infancy or childhood. Mary married Edward Butcher, a tallow chandler, in 1729 at Horselydown Meeting. Sarah lived for a time in West Jersey with her Aunt and Uncle. She later married a man named Simpson, and was mentioned in family wills, but I've found no other information about her. Elizabeth married a Quaker named Joseph Etherington. Haddon (1715-1757) married three times: to the widow Judith Swainson in 1742, to Ann Arnold in 1746, and to Mary Hoare in 1752. He and Mary had a daughter Ann and a son, Benjamin. The youngest son of Benjamin and Sarah, Ebenezer (1718-1757), became the first of my Hopkins line to settle in America.
Based on my research so far, the Hopkins name in this line died out in England. The only possibility is if William, grandson of William, had a son. I've been unable to find out whether he had children at all. His widow, Elizabeth, was the administrator of her father-in-law William's estate in Buckinghamshire. I'm continuing to search for more information about this couple and their possible offspring.
Consumption
Most of the deaths of the Hopkins family in Southwark were caused by consumption, or what we today call tuberculosis. In his book The Remedy, author Thomas Goetz says the it was the leading cause of death in Europe and England at that time. The cause of the disease was not known then, and there was no cure or useful treatment. Prevention through better sanitation wasn't practiced to any great extent. He says that people thought of it as inevitable. People might have the disease for years, slowly deteriorating, before finally dying. Others might have the germ inside them for years, and then have it become active. Others might have the germ and it would never become active.
I've prepared a report showing the people in the family in Southwark who died of consumption. These are the ones I have records for that give the cause of death. I've also prepared a list and graph showing the causes of death reported in all the burial records I transcribed from the Southwark MM records..
The Haddon Family
John Haddon (1653-1724) was a blacksmith and anchor maker in Rotherhithe, which was near the docks and shipyards along the Thames River. In a 1909 letter to his cousin Rebecca Nicholson Taylor, Samuel Nicholson Rhoads says that the Haddons lived first on Jacobs Street, Bermondsey, in "Jacobs Island" before moving downriver to Rotherhithe, where John's anchor smithy was located at the corner of West Street and Rotherhithe Street.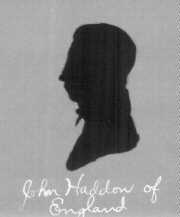 Silhouette said to be of John Haddon.
See Others and notes.
He was born in Northamptonshire, the son of Matthew Haddon and his wife Phillipia (Marriott) of Hardingstone. He was born on December 13, 1653 and baptised at the Parish church. He married Elizabeth Clarke (1650-1723) 3rd day, 6th month, 1676 in the Horseleydown Meeting in Southwark. Their daughter Sarah married Benjamin Hopkins and their elder daughter Elizabeth (1680-1762) went to America and married John Estaugh (1676-1742) in 1702.
Little is known about the origins of Elizabeth Clarke, wife of John Haddon. The genealogy prepared by Rhoads gives no information about her ancestry, nor does the book by Dorwart and Lyons, (see below). There was an Elizabeth Clarke mentioned frequently in the Southwark records, but she would have been older than this Elizabeth. I've compiled a list of baptisms of Elizabeth Clark(e)s in both Northamptonshire and Southwark, which is in this pdf file.
In looking at the records of the Southwark MM, I found two Clarkes mentioned in connection to the Haddon family. A Barbara Clarke was present at the birth of William Haddon, son of John and Elizabeth, on 29da 2mo 1677. A John Clarke was a relation at the marriage of Benjamin Hopkins on 29 Aug 1706 to Sarah Haddon, and to the marriage of Edward Butcher and Mary Hopkins (daughter of Benjamin and Sarah) on 22 May 1729.
I've found two possibities for these two Clarkes:
A Barbara Clarke of St. Olaves parish, age about 83, was buried in Southwark on 30d 11m 1691/2. She would have been about 68 in 1677.
A John Clarke was born on 27d 9m 1666 in St. Mary Magdalen's, Bermondsey to John and Sarah Clarke. I've found no burial record for him, but he might be the John Clarke who was a relation in the marriages above. He would have been 63 in 1729.
John and Elizabeth Haddon had 3 sons named Ebenezer. None survived to adulthood. Their daughter Sarah also named one of her sons Ebenezer. But I've found no Ebenezers in the Haddon family ancestry. This leads me to think that the name Ebenezer was from the Clarke family. I've found 6 Ebenezer Clark records from Southwark:
Baptisms

Ebenezer Clark, son of John and Ann Clark, baptised 4 Dec 1681, St. Olave, Bermondsey
Ebenezer Clark, son of Ebenezer and Elizabeth, baptised 18 Aug 1695, St. Olave, Bermondsey

Marriages

Ebenezer Clark and Elizabeth Buck, 13 Jul 1693/4, St. Thomas, Southwark

Burials

Ebenezer Clark, son of Ebenezer, buried 14 Sep 1696, St. Olave, Bermondsey
Ebenezer Clark, son of Ebenezer, buried 1 Mar 1699, St. Olave, Bermondsey
Ebenezer Clark, buried 5 Oct 1776, Southwark (Quaker record)
Matthew Haddon was the son of John Haddon and Elizabeth Hunte, daughter of Thomas Hunte. Matthew was baptised on 21 Dec 1623 in Hardingstone, Northamptonshire. I've found a possible record for Matthew's father, John Haddon. A John Haddon was baptised on 16 Nov 1590 in All Saints parish, Northampton. His father was Thomas Haddon. Other children of Thomas Haddon were also in the records. I've prepared a register report for the descendants of Thomas Haddon.
I also found records for a Thomas Hunte in the All Saints baptisms, and a burial record for Thomas. There was no mention of the name of Thomas' wife, unfortunately.
Source: Northamptonshire, England, Baptisms, Marriages
and Burials, 1532-1812, Ancestry.com
A new book about the Haddons, Elizabeth Haddon Estaugh, 1680-1762, has been published. The authors are Jeffery M. Dorwart and Elizabeth A. Lyons. This book contains a wonderful amount of information about her and her family, and her role in establishing the family in America and founding the town of Haddonfield. It's available from the Haddonfield Historical Society.
Other Families
Other families in my ancestry who came from England include the Lords and the Woods. The Lord family came from Lancashire, as did the Wood family. They were also members of the Friends and migrated to West Jersey in America to become part of William Penn's experiment there. The move to America offered them religious freedom and economic opportunities not available to them in England.
In previous versions of this page, I mentioned the Boone family of Devon. I have since learned that my Boone ancestors were not related to these Boones, as I had thought. DNA tests have proved that my Boones were from an entirely different line, the origins of which have not yet been discovered.
---
Next: Emigration to West Jersey
See also these pages related to the Hopkins and Haddon families, and those families they intermarried with:
This file was last updated on 8/31/2020.